Chechen lawmaker proposes legal immunity for holy books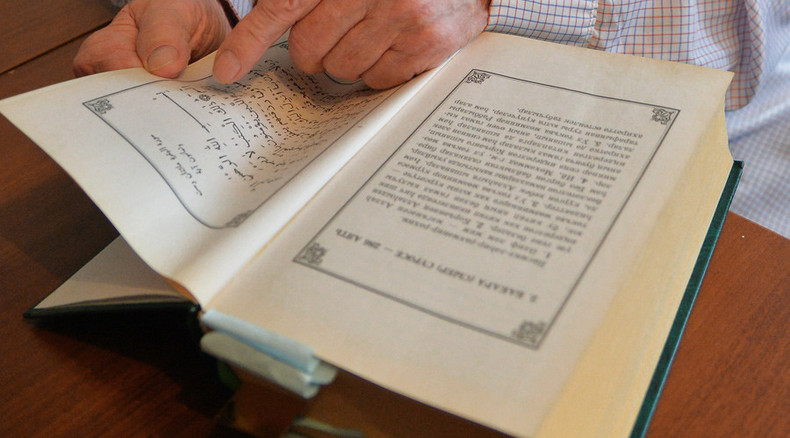 After a court in Russia's Far East found allegedly extremist statements in a Muslim religious book, an MP from Chechnya is drafting a bill that would prevent courts from recognizing any holy book of any religion as extremist material.
"I have a principle position on this subject: it is necessary to completely exclude the possibility of court processes over holy scriptures, once and for all. We all know that there are values that are beyond time, that have existed before us and will live after we are gone. Holy scriptures of world religions followed by billions of people also fall into the category of such values," State Duma MP Shamsail Saraliyev (United Russia) told Izvestia daily.
"These texts have many centuries of history and recognizing them as extremist is completely absurd," he added.
READ MORE: Russian Orthodox Church stands up for Muslim book ruled 'extremist' by court
He referred to the scandal that erupted in early September after a court in the Far Eastern region of Sakhalin fulfilled local prosecutors' request to recognize as extremist the Koranic commentary 'Prayer to God'. The judge pointed out that the quotes from Koran stating the supremacy of Allah and banning the worship of any other deities could be viewed as extremist.
The court ruling was immediately met with sharp criticism from Muslim clergy and also from some representatives of the Russian Orthodox Church. The head of the Chechen Republic, Ramzan Kadyrov, known for his strong Muslim faith, publicly protested against the decision and also filed in a legal appeal against it.
The wide response prompted a dedicated session of the State Duma Committee for Religious Communities and Public Organizations that took place on September 15. During this meeting some lawmakers and experts suggested that holy texts of various religions should be exempt from the Law on Extremism and that all legal controversies concerning the religious sphere should only be resolved by the Supreme Court.
In addition, Saraliyev told reporters that all participants of the committee session, including representatives of major religions, denounced the ruling of the Sakhalin court and "unanimously decided that such actions on the part of the Russian court system were incorrect and lacked perspective as they evidently sought to promote hatred towards Islam, instigate ethnic strife and undermine stability in the Russian state."
READ MORE: Russian Muslims denounce ISIS as 'enemies of Islam'
A key Russian Muslim cleric – first deputy head of the Council of Muftis Rushan Abbasov said Saraliyev's bill was in line with the position of all Russian followers of Islam who had earlier unanimously called to introduce complete legal immunity for all holy books. Abbasov added that in his view the Sakhalin court had taken the Koran quotes out of context and by using this method anyone could find extremism in any holy text.
Representatives of the Russian Orthodox Church have also backed the draft. The head of the Holy Synod's department for relations between the Church and the Community, Vsevolod Chaplin, said in a radio interview that the "initiative was worthy of discussion" and suggested that the law introduces a minimum age of 200 or 300 years after which holy texts should be considered immune from probes on extremism.