'US-based hackers tried to tamper with Russian polls' – elections chief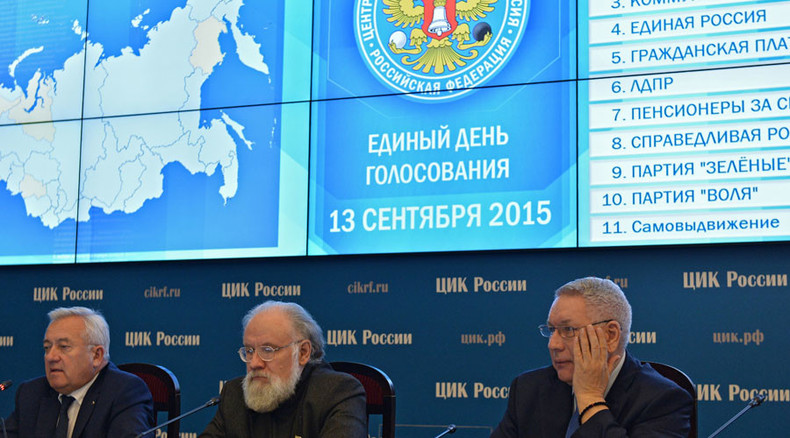 A US-based company attempted to break into the web-site of the Russian Electoral Commission on the eve of the single national Election Day, the body's chief Vladimir Churov told the press.
"Yesterday someone attempted to hack our web-site and alter the data there making 50,000 requests per minute. They failed and we have already established the culprit – it's a company based in San Francisco," Churov told reporters at the press conference dedicated to the national unified Election Day that took place on Sunday.
The Russian official said that documented proof of the attack would be prepared before the end of the week and forward them to law enforcement agencies in the United States.
In last year's public address, Churov said that his agency possessed information about certain "foreign foundations" planning provocations at Russian regional elections.
READ MORE: Official warns of attempts to disrupt record-breaking nationwide poll in September
Churov has headed the Central Electoral Commission since 2007. Opposition politicians, mass media and bloggers made him one of their favorite targets, constantly alleging that under his management the body has turned a blind eye to violations and on rigging the vote in favor of the authorities. They've also called him "a wizard" and "a tale-teller," making fun of his long beard.
Sunday's ballot saw legislative polls in 11 Russian regions and 21 direct elections of heads of regions. In addition, over 3,300 candidates from 35 political parties competed for seats in various regional and municipal legislatures.
READ MORE: Brad Pitt, Sylvester Stallone 'join' election campaigns in Russian regions
According to preliminary results most of the seats were won by candidates representing four Russian parliamentary parties – the centrist United Russia, leftist KPRF and Fair Russia and nationalist LDPR.
You can share this story on social media: