Liberals blast Russian election law as 'medieval,' suggest radical changes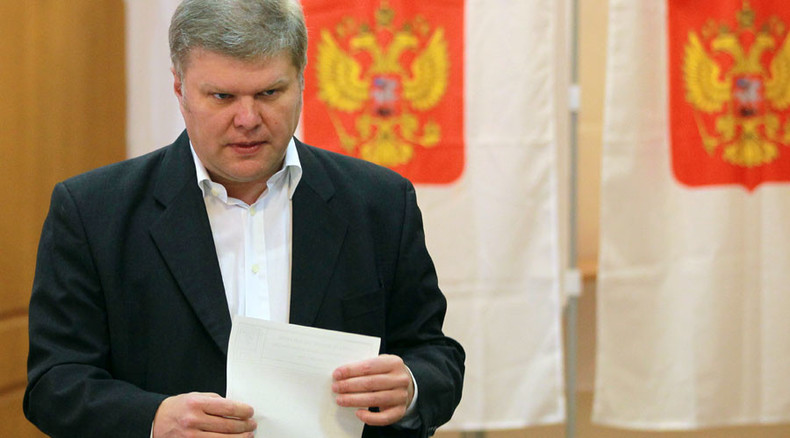 The leader of the Yabloko party has told reporters that Russia must abandon the current practice of political parties presenting supporters' signatures before elections to prove their popularity, saying it was both obsolete and prone to rigging.
Sergey Mitrokhin told reporters in Novosibirsk on Monday that his party supported the cancelation of pre-electoral signature collection for all political parties. He commented that this part of Russian election law is "medieval."
The press conference was held in connection with the next nationwide election on September 13. This is when 11 Russian regions will elect legislatures, 21 heads of regions will be elected by a direct vote, and four more by voting in regional parliaments.
He added that Yabloko, one of the oldest parties in Russia, has always supported greater equality for all political groups.
Current Russian election law, introduced at the beginning of 2014, stipulates that political parties who want to participate in regional elections must prove themselves by presenting a certain number of supporters' signatures that varies depending on region. Only parties that already occupy seats in local legislatures or that managed three or more percent of the vote in previous elections are excused this procedure.
READ MORE: New rules for next Russian parliamentary election
Yabloko itself does not have to present supporters' signatures in Novosibirsk Region because it passed the three-percent threshold in the last polls.
Mitrokhin also told reporters that cancelation of signature collection would make it unnecessary to use the Federal Migration Service's database. He said if the procedure remains every poll would be marred with falsification scandals. "It has happened approximately 20 times in different regions - when we collected supporters' signatures we were removed from the race," he said.
The comments came after the elections commission in the Novosibirsk Region removed the PARNAS party from the forthcoming regional polls. The commission said a large percentage of supporters' signatures presented appeared to be forged. PARNAS representatives insist that all their signatures are authentic and blame the conflict on the Federal Migration Service's supposedly obsolete database.
READ MORE: Half of Russians express readiness to vote in 2016 parliamentary poll
When the registration period for the September 13 elections expired on July 19, the Central Elections Committee reported that 35 political parties had proposed over 3,300 candidates for seats in various regional legislatures. The total number of political parties in Russia is currently over 70.
You can share this story on social media: