United Russia will not use Putin's image in next elections – report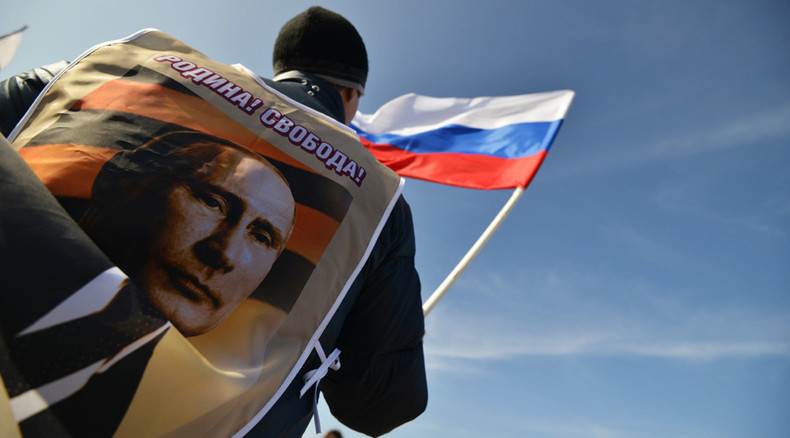 Russia's ruling parliamentary party, which has always based its policies on supporting Vladimir Putin, will not ask the president to allow them use his image in the 2016 elections campaign, a business daily reports.
Kommersant newspaper quoted unnamed sources in United Russia as saying that its presidium has already chosen five people who will top the party's lists in the forthcoming primaries, and the president was not among them. The sources did not disclose the names of these politicians. They also said that most of the places in the lists would be reserved for regional party leaders, as this would make the primaries "democratic to the maximum."
United Russia officials also told Kommersant that the party did not want to involve Putin in its election campaign in order to protect the president from possible damage to his political rating, because it was difficult to forecast how many voters would lend their support to the party this time around.
A source in the Russian presidential administration has confirmed the party's announcement, adding that the general idea was to make United Russia more independent and competitive. "The party must now do everything to cope with its political tasks by itself," Kommersant quoted the unnamed Kremlin official as saying.
Earlier this year, United Russia announced that its chairman, Prime Minister Dmitry Medvedev, would head its lists of candidates in the 2016 parliamentary polls.
READ MORE: PM Medvedev to lead United Russia list in 2016 parliamentary polls - report
Russian elections law requires that any political party or movement that intends to use an image of any person in its campaign materials needs to get the written consent of that person. In 2011, Putin gave his consent to United Russia to use his image. However, after his re-election as president, Putin started to distance himself from his main political allies and became closer to the United Popular Front movement – an alliance of people who agreed with Putin's political course, but chose not to join United Russia or any other political party.
In June, the president's approval rating reached a historic high of 89 percent, according to the independent Levada Center polling agency. The number of Russians who expressed dissatisfaction with Putin's work was 10 percent. Sixty-four percent said the current policies of all Russian authorities were correct – also the highest in recorded polling history.
When researchers asked the Russian public to name five or six politicians they trusted most, Putin again ranked first, with 64 percent of respondents naming him their favorite.
READ MORE: Putin's approval rating hits historic high at 89 percent
Putin's approval ratings have been constantly rising since the beginning of last year, and in December an overwhelming majority of citizens named the president "Man of the Year" among serving Russian politicians.