PM Medvedev to lead United Russia list in 2016 parliamentary polls - report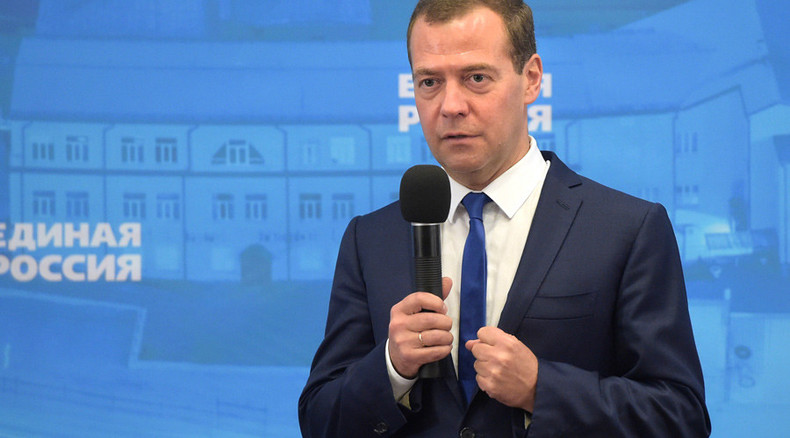 United Russia will be led during elections by its current leader Dmitry Medvedev. Party officials said this would help make the president a non-partisan figure, but assured reporters that Vladimir Putin will always remain their "moral leader."
Mass circulation daily Izvestia quoted unnamed sources in United Russia as saying the elections policy change would be officially announced at the next party congress, but refused to give an exact date. Most likely the event will take place at the beginning of 2016, the sources suggested.
The centrist United Russia conservative party was initially built as a pro-Putin political project and even described its program as "Putin's course." In 2007, Putin agreed to lead United Russia's list in parliamentary polls even though he wasn't a party member at the time.
In the 2011 elections, United Russia confirmed then-president Dmitry Medvedev at the head of the elections list. After the polls (which gave United Russia the majority of seats in the Lower House) Medvedev swapped with Putin and became prime minister.
READ MORE: PM Medvedev: Endless government dismissal rumors don't bother me
The head of United Russia's General Council, Sergey Neverov, said the break in tradition, according to which the party was always led in polls by the head of state, was due to the desire to alter the current political configuration and make the Russian president a figure above any party allegiances.
"It is usual when the party chairman personally heads the list. Vladimir Putin remains our moral leader and the founder of United Russia. In the president's post he determines the strategy and course for the country's development. And Dmitry Medvedev who heads United Russia is directing the party into the realization of these tasks," Neverov told reporters.
Some Russian political experts noted that the place on top of the elections list could be a kind of a guarantee that Medvedev will keep his post as the chairman of the government until the 2016 elections are over. The signal is important against the background of the opposition calling for the government's dismissal, they said.
The RBC news agency quoted a source "close to the presidential administration" as saying that the Kremlin didn't expect a sharp decrease in United Russia ratings due to the move. "Both Dmitry Medvedev and United Russia are carrying Vladimir Putin's rating by definition, high presidential rating boosts their popularity as well, but they are inside this rating and 20 percent of Putin's supporters vote for other political forces" the source told the agency.
RBC also cited first deputy head of the Russian presidential administration, Vyacheslav Volodin, as saying the Kremlin expected United Russia to get about 70 percent of votes at the next federal parliamentary polls.
Presidential press secretary Dmitry Peskov told RBC that he considered it inappropriate to ask questions about the possible decisions of United Russia's elections congress before they were made.
Currently, United Russia holds 238 of 450 seats in the State Duma.