State Duma MP urges Facebook coordinate censorship with Russian authorities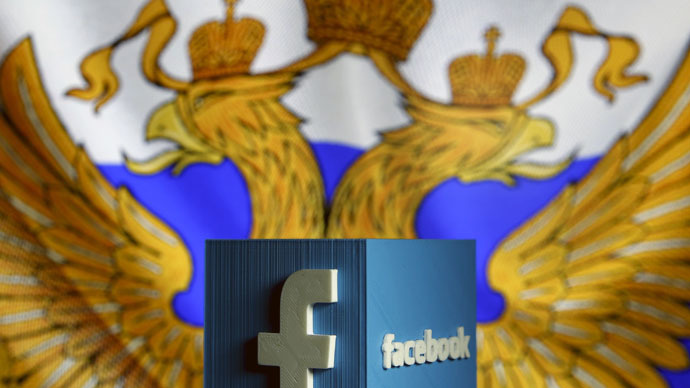 A Russian lawmaker has asked Facebook to give state agencies and courts the role of censor after several popular figures complained of bans, apparently caused by the use of controversial Russian nicknames for Ukrainians.
MP Ilya Kostunov (United Russia) wrote a letter to Thomas Kristensen, Facebook's Director for Public Policy for the Nordics, Central and Eastern Europe and Russia. "A large number of Facebook users are worried because of the frequent use of censorship and out-of-court blocking of accounts by your company's administration. I ask you to pay attention to the problem and I have to state that it had stopped being purely business and had become a political one," the Russian lawmaker wrote, as quoted by Izvestia daily.
Kostunov added that he considered it necessary to make Facebook's principles of public censorship clear and transparent. According to the MP this can be done in two ways: either through Facebook's cooperation with Russian courts and government agencies or through consulting with Russian language experts.
"The law of the Russian Federation allows not only to forcefully delete content with insults slander or attempts to instigate racial and religious hatred, but also to force the guilty party to publish apologies and repay compensations to those who suffered from such actions. Actions that pose a threat to society carry criminal punishment," Kostunov wrote in his letter. The MP added that he could personally prepare legislative acts that would facilitate Facebook's contacts with Russian authorities.
READ MORE: Leftists push to equate popular Russian bloggers with mass media
As for the second way of solving the controversy, Kostunov proposed that a number of experts in language sciences, history, culture and conflict-solving from either the Russian Academy of Science or UNESCO put together a list of words that should never be used in public posts. Ukraine and other countries could come up with their own lists, he said. "It is important that these rules were detailed, public and understandable for users," the Russian lawmaker wrote.
Kostunov's letter was prompted by a scandal that emerged in the Russian-language sector of Facebook earlier this month. Several prominent Russian users, including journalists and writers, claimed that some of their posts were censored and Facebook moderators said they did it for using the word khokhol – meaning 'forelock' or 'crest' which is a common nickname for Ukrainians in Russian, because of the traditional haircut of Zaporozhian Cossacks.
Facebook said that the word was used in a derogatory sense, authors objected, a number of Russian Facebook users posted a quote from 19th century poet Aleksandr Pushkin which also contained the k-word and they also were banned. At the same time, Russian activists said that Facebook management chose not to touch the posts of Ukrainian activists, full of anti-Russian slurs and sometimes containing direct calls to attack ethnic Russians.
Facebook press service said in comments to Izvestia that the blocks on content were made in accordance with the terms of service that are public and available to everyone and added that anyone who thought that the moderators were unjust or biased could lodge a complaint.
READ MORE: Russian public movement seeks 'anti-troll' police, fines for fake accounts
Existing Russian legislation orders the authors of all blogs and social media accounts with 3,000 daily readers or more to register with the special state agency, disclose their real identities, verify the information before making it public and abstain from releasing reports containing slander, hate speech, extremist calls or other banned information.
In April this year a public movement proposed to set up a special unit within the Interior Ministry that would fight online threats and harassment and introduce fines for creating fake accounts of real people. These suggestions have not yet been considered by legislative bodies.
You can share this story on social media: