Leftists push to equate popular Russian bloggers with mass media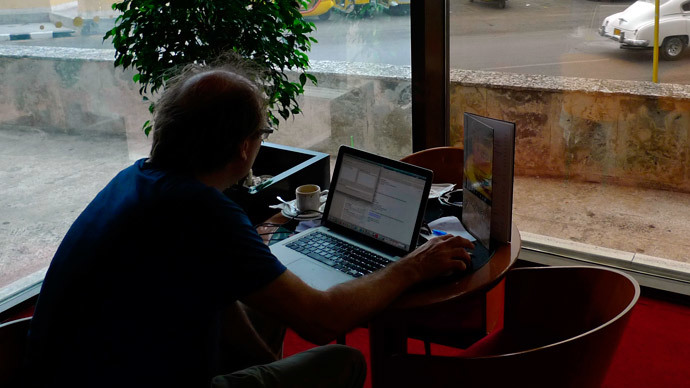 A Fair Russia MP has drafted a motion that, once passed, would give bloggers with large audience the rights and responsibilities of conventional mass media.
Aleksey Kazakov claims that his initiative was caused by the desire to protect the bloggers' rights. He noted that after the adoption of the legislative amendments concerning bloggers in August 2014, the latter received additional responsibilities, but gained scarcely any additional rights. The new law would change that, the MP hopes.
"Without such a law the bloggers who have been equated with journalists have their rights infringed," he told Rossiiskaya Gazeta daily.
The MP wants to introduce the term 'blogger' into law and define it as the owner of a website or page with 3,000 unique daily visits or more. Such persons would have to observe the general rules applied to mass media, but also get to enjoy the benefits of an official media outlet. But they'd also have the right to access information in state organizations and power bodies and to make official inquests to which civil servants would have to answer within seven days.
The current Russian law orders the authors of all blogs and social media accounts with 3,000 daily readers or more to register with the state watchdog Roskomnadzor, disclose their real identities, verify the information before making it public and abstain from releasing reports containing slander, hate speech, extremist calls or other banned information such as, for example, advice on suicide. Also, the law bans popular bloggers from using obscene language.
Violations of the law carry administrative responsibility and are punishable with fines.
The head of the State Duma Committee for Information Policy, MP Leonid Levin (Fair Russia), told the press that he did not consider the new bill as necessary and useful, but noted that he did not exclude future corrections in the legislation that regulates blogging. Levin noted that if Kazakov's bill is passed the popular bloggers would receive additional obligations, such as putting age restrictions for users on their pages and posting their real addresses and numbers of their licenses on the internet.
READ MORE: Russian watchdog to force dithering Facebook, Twitter & Google to register as mass media
Such a situation would contradict the current law that was introduced in order to protect the readers, but not to complicate the life and work of popular web authors, Levin said.
The secretary of the Russian Union of Journalists, Pavel Gutiontov, also criticized the new motion.
"I am against this bill. If we start moving in this direction we could end in giving journalists' rights to people who make, say, 300 phone calls per day or to those who write 300 letters. Journalism is a special profession that includes not only rights and duties, but also certain self-imposed obligations. I would not demand this from bloggers," Gutiontov told Noviye Izvestia daily.
You can share this story on social media: