Chechen leader claims Islamic State has no chances in the republic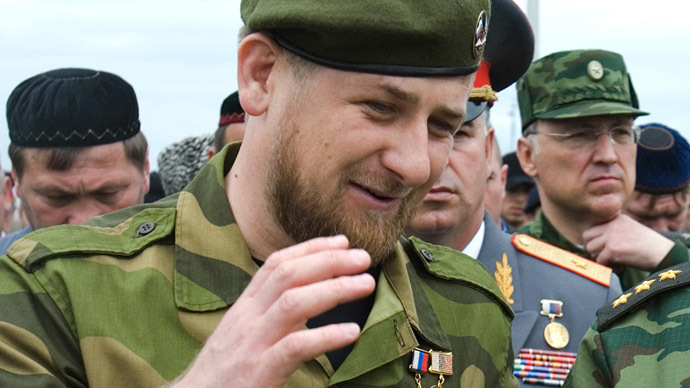 The head of the Chechen Republic has dismissed reports that local terrorists have joined the Islamic State group (IS, formerly ISIS/ISIL), adding that such rumors were bluffs and that the IS had absolutely no chances of success in Chechnya.
"The statement that the North Caucasus terrorists are pledging their allegiance with the ISIL is nothing but bluffing. I doubt that the few surviving bandits who are still hiding in our forests can render any serious help to this so called Iblis State [Devil state]," Ramzan Kadyrov said in an interview with Interfax.
The Chechen leader said the militants had no hope in Chechnya because the republic was controlled everywhere by law enforcers and "99.9 percent of Chechen people" supported peace. He said, however, the authorities understood the threat from Islamic State and will strive to prevent "the spread of this contagion."
"Chechnya is on the frontline of the war against terrorism and is successfully fulfilling its tasks. The republic has become one of the calmest regions in the Russian Federation. I assure you that this situation will carry on," Kadyrov told reporters.
The comment came soon after the Institute for the Study of War think tank reported that, according to its sources, terrorist cells in the North Caucasus had sworn allegiance to Islamic State.The researchers also noted this step was more a publicity stunt aimed at strengthening the terrorists' morals.
Since last December, Russia has officially recognized Islamic State and the affiliated group Al-Nusra Front as terrorists. All Russian citizens are banned from participating in these organizations or rendering any support to them under threat of criminal prosecution. The Russian Foreign Ministry earlier called upon all nations to recognize the two groups as terrorists, in line with resolutions passed by the UN Security Council.
READ MORE: Russian Muslims denounce ISIS as 'enemies of Islam'
Major Russian Muslim unions have issued fatwas against IS denouncing the group as enemies of Islam and calling for the punishment of all its members. In addition, Russian Muslim scholars have repeatedly said the followers of Islamic State should not be called Islamists as it sheds a negative light on their religion. They suggested rendering the IS abbreviation as "Iblis State" – after the name of the Devil, and Ramzan Kadyrov did exactly this in his latest statement.
Top security and state officials have warned the IS threat is very real for Russia and its neighbors. In April, deputy head of the Federal Security Service, General Sergey Smirnov, said according to law enforcers about 1,700 Russian citizens were fighting in Iraq on the side of Sunni extremists. Back then, the general also warned about contacts between Islamic State and terrorist cells in Russia's North Caucasus.
You can share this story on social media: