Chechen leader blames western special services for killing opposition figure Nemtsov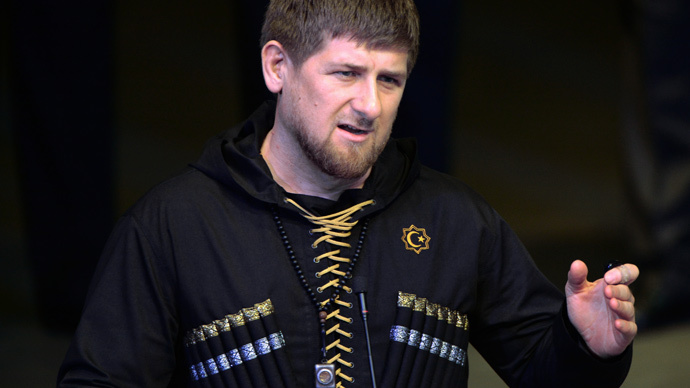 Ramzan Kadyrov has told reporters that the murder of Russian opposition politician Boris Nemtsov could have been masterminded by US and Ukrainian special services, with the help of Chechen terrorists.
"I hold that the traces of this crime should be looked for not in Chechnya but in Ukraine's State Security Service and further in the United States," Interfax news agency quoted Kadyrov as saying Thursday.
The Chechen leader also said that there were many preconditions, hinting at the possibility that Nemtsov's murder could have been organized by Adam Osmayev, an ethnic Chechen who was heading one of the volunteer units fighting on the side of pro-Kiev forces in the military conflict in southeast Ukraine. Kadyrov added: "Osmayev has been working for Western special services and he knows very well how to get rid of a person who causes problems."
"The organizers of the murder used Nemtsov for their own purposes and then killed him, and now they are seeking to shift the blame on somebody," Kadyrov explained.
The Chechen leader also told reporters that his own murder was ordered by Adam Osmayev's father Aslambek Osmayev back in 2004.
Kadyrov categorically ruled out that he himself or any of his subordinates had been involved in Boris Nemtsov's assassination. "There are claims that I have once said that Nemtsov must be killed. But this is not true! Why would we kill him? What had he done to us? Was he causing us any obstructions? He even did not visit us for a long period of time – I last saw him in Gudermes [the Chechen town] 14 years ago."
Kadyrov also said that he knew nothing about the investigation of Nemtsov's murder except for the information provided by relatives of the suspects and their lawyers.
READ MORE: Duma rejects in-house Nemtsov assassination probe proposal
Adam Osmayev was detained in Ukraine in February 2012 on charges of organizing a deadly bombing in Odessa and preparing an attempt on the life of Vladimir Putin, ordered by Chechen terrorist Doku Umarov. Russia demanded extradition of Osmayev but Ukrainian law enforcement turned it down. After the start of conflict in the Donbass, media reports said that Osmayev replaced the killed commander of the "Dzhokhar Dudayev Battalion" – a mercenary unit manned largely by ethnic Chechens fighting on the side of the Ukrainian military.
Earlier this year, Russian daily Komsomolskaya Pravda quoted an unnamed source in the Federal Security Service as saying that investigators consideredOsmayev to be the main suspect in organizing the killing of Boris Nemtsov. The source added that one of the people detained on suspicion of carrying out the hit had been "closely connected" with Osmayev, and that the two men met many times and talked a lot by phone.
Boris Nemtsov was one of the leaders of the Russian opposition party RPR PARNAS who was shot dead in central Moscow in February in an apparent contract hit. About a week after the killing, Moscow police detained five people and charged them with both organizing and carrying out the attack. The investigation into the case continues.
You can share this story on social media: