Duma rejects in-house Nemtsov assassination probe proposal
Published time: 18 May, 2015 09:46
Edited time: 2 Mar, 2018 09:44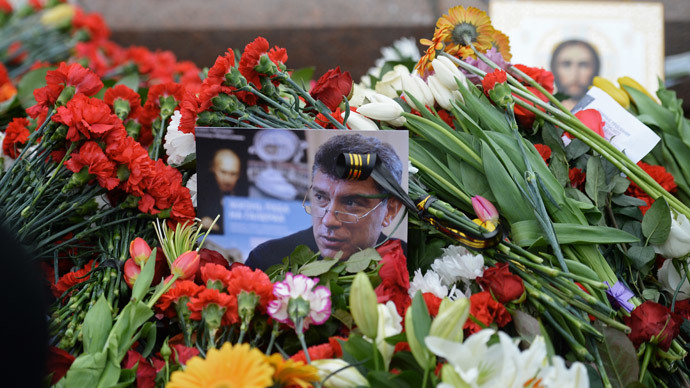 The Russian lower house has refused to launch an investigation into the killing of opposition politician Boris Nemtsov, citing procedural reasons.
MP Dmitry Gudkov of the center-left Fair Russia party, who proposed the move, told reporters on Monday that the head of the State Duma Commission for Constitutional Law had turned down the request to conduct a probe into Nemtsov's killing.
In Russia, a parliamentary investigation can be launched when there is suspicion of either grave or mass violation of citizens' constitutional rights. The investigation is conducted by a separate parliamentary commission and its results are presented to law enforcement and the broad public.
Sources in the State Duma Committee for Constitutional Law confirmed the news to TASS, adding that the legislation contained the full list of grounds for parliamentary probe and Nemtsov's killing was not matching any of them.
"Federal law states that a parliamentary probe cannot determine the complicity of particular persons in a crime," the sources said.
The head of the committee, MP Vladimir Pligin (United Russia) also said in press comments that the investigation into Nemtsov's killing should be conducted by law enforcement agencies.
However, later on Monday sources in the lower house staff told TASS that there had been no official rejection of Gudkov's initiative, because the MP had never filed in a proper application.
Instead, Gudkov sent a personal letter to the Duma speaker and published the answer to it on social networks.
The sources added that the proper initiative for a parliamentary probe must be put forward jointly by at least 20 percent of MPs and only be launched if passed by a general vote with at least 226 of 450 parliamentarians voting in favor.
READ MORE: Moscow court rules arrests of 3 Nemtsov murder case suspects illegal
A co-chairman of the non-parliamentary opposition party RPR PARNAS, Boris Nemtsov was shot dead in central Moscow, not far from the Kremlin, late on February 27. This was two days before a scheduled major protest rally.
About a week after the killing, Moscow police detained five suspects and charged them with organizing and carrying out the hit. Later a Moscow court ordered the pre-trial arrest of these men.
So far all the accused deny any involvement in the attack.