Veteran nationalist politician Zhirinovsky announces presidential ambitions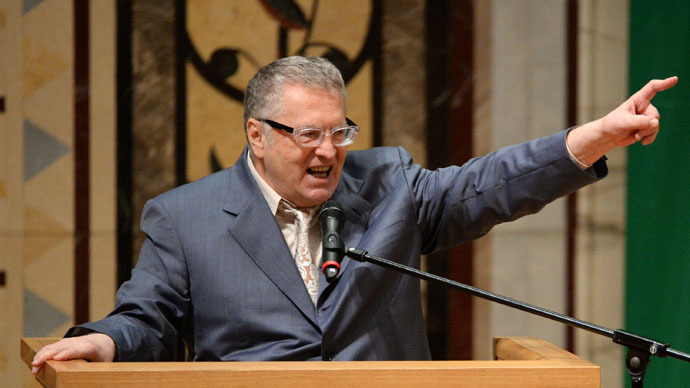 The leader of the Liberal Democratic Party of Russia, Vladimir Zhirinovsky plans to run for the presidency in 2018. This will be his sixth presidential bid, with the first one dating back to 1991 – when Russia was technically still a Soviet republic.
Zhirinovsky announced his plans for another presidential challenge in an interview with the political talk radio Ekho Moskvy. He also said that he had expected the 2012 race to end in a runoff, and added that he did not exclude that Vladimir Putin would run again.
READ MORE: Veteran Russian nationalist demands Obama be stripped of Nobel Peace Prize
Zhirinovsky is known for his populist and often flamboyant style, and his party takes a clearly nationalist stance. He has taken part in six presidential races already. His results ranged from almost 8 percent of votes in 1991 to just 2.7 percent in 2000. In 2004 Zhirinovsky allowed his deputy and former bodyguard, Oleg Malyshkin, to become a candidate, reasoning that it was virtually certain that the LDPR candidate would lose to the extremely popular incumbent Vladimir Putin.
Last week, the liberal party Yabloko announced that it would put forward the candidacy of its founder Grigiory Yavlinsky in the 2018 presidential poll. The decision has yet to be agreed with Yavlinsky himself – this is likely to happen at the next party congress.
Other people and movements have not yet made any direct statements regarding 2018. However, Aleksey Venediktov, editor-in-chief of the Ekho Moskvy radio station, said last month that he knew for sure that Vladimir Putin intended to run for another term. The president has not commented on this report.
READ MORE: Sociologists forecast Putin victory in Russian presidential polls
In early March, the independent Levada polling agency said that if presidential elections were held next weekend Putin would win in the first round. According to Levada's research, 57 percent of Russian citizens were ready to cast their votes for Putin. Among those who said that they knew for sure who they would support this share was even higher – at 80 percent.
The leader of the Russian Communist Party, Gennady Zyuganov, was second with 7 percent and Zhirinovsky was third with 4 percent. Other candidates proposed by pollsters were Prime Minister Dmitry Medvedev, Defense Minister Sergey Shoigu and the head of the Party of Progress, anti-corruption activist Aleksey Navalny – they claimed 1 percent of supporters each.
When researchers asked the public whom they would like to see elected in 2018, 57 percent said they would prefer Putin remaining at the helm. Twenty-five percent said they would prefer someone else and 19 percent answered that they found it difficult to make a choice.
You can share this story on social media: