Sociologists forecast Putin victory in Russian presidential polls
Published time: 5 Mar, 2015 13:45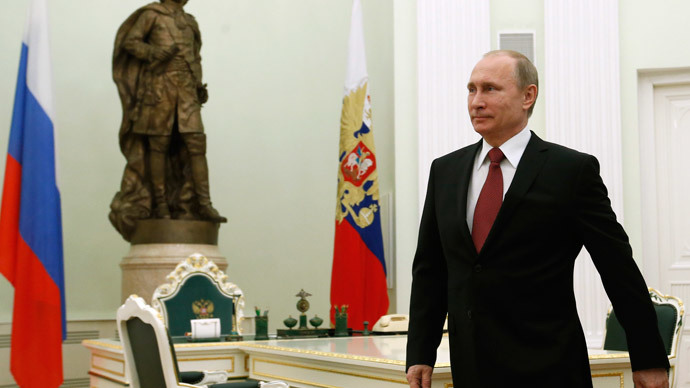 If presidential elections were held in Russian on the nearest weekend Vladimir Putin would win in the first round, research released by independent pollster Levada in the first week of March finds.
According to the poll, 57 percent of Russian citizens are ready to cast their votes for Putin. Among those who said that they knew for sure who they would support this share was even higher – 80 percent.
The runners up, with a huge spread, were leader of the Russian Communist Party Gennady Zyuganov with 7 percent and the head of the Liberal Democratic Party of Russia Vladimir Zhirinovsky with 4 percent. Other candidates proposed by pollsters were Prime Minister Dmitry Medvedev, Defense Minister Sergey Shoigu and the head of the Party of Progress, anti-corruption activist Aleksey Navalny – they claimed 1 percent of supporters each.
When Russians were asked whom they would like to see elected when the actual ballot is due (in March 2018), 57 percent replied they would be happy if Putin is reelected. Twenty-five percent said they would prefer someone else and 19 percent answered that they found it difficult to make a choice.
Also this week Levada released the results of another poll connected with the public popularity of Vladimir Putin. They indicate that 28 percent of Russians hold that souvenirs decorated with their president's portraits only contribute to this person's image and popularity. Some 17 percent answered that such goods on the market damage the president's image, while 45 percent said that it had no effect on public perception.
Three percent of respondents told researchers that they already had Vladimir Putin's portraits or busts in their possession and 2 percent confessed to owning a t-shirt with Putin's portrait on it. Sixteen percent said they would like to have such a garment, but had not purchased it yet. A solid 72 percent answered they were against such open demonstration of their political allegiances.
Researcher Karina Pipiya said in comments to Izvestia daily that the fact the majority of those surveyed did not want to openly demonstrate their love for Putin was a confirmation that there was no cult of personality in the country.
A poll conducted by the Levada Center in October 2014 showed that the majority of population also did not see the president's popularity as a potential cult of personality. Only 19 percent said they had noticed features resembling a cult, compared to 27 percent in 2013.
READ MORE: Putin's trust rating hits 85% historical high
In early December, Putin's press secretary Dmitry Peskov commented on the surge in the president's popularity in an interview with RT. He said that, in his opinion, Putin did not need any publicity, bad or good, and the people's love for Putin was a manifestation of their love for Russia.