Russians rule out universal polygamy, but some would allow exception for Muslims, poll shows
Published time: 2 Jun, 2015 10:47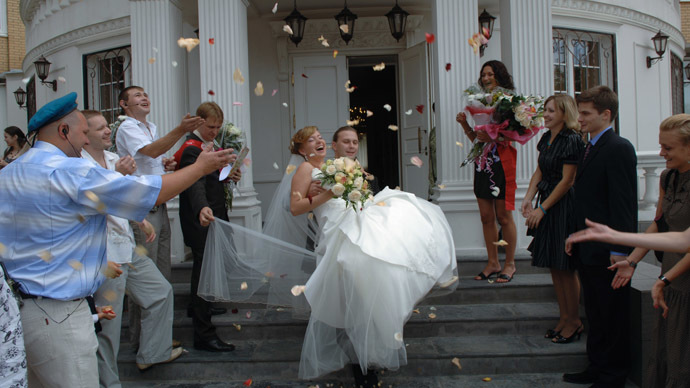 An overwhelming majority of Russian citizens are against introducing polygamy all over the country but about one-third of the population said it was OK for Muslim peoples in the country.
According to a survey released this week by state polling agency VTSIOM, 87 percent of respondents said polygamy for ethnic Russians was unacceptable. Just 8 percent said that such a thing was possible and 2 percent said it was necessary, without specifying why.
When sociologists asked citizens if polygamy could be allowed among Muslims 3 percent said it was necessary and 30 percent said it was possible. 58 percent answered that polygamy was not appropriate for Russian citizens even if they follow Muslim faith and 9 percent found it difficult to answer the question.
The head of the VTSIOM agency, Valery Fyodorov, said in comments to the media that the negative attitude to polygamy was rooted in the general conservativeness of Russian society. "Slavic peoples cannot accept polygamy as for them this is a trait of an alien way of life," he said. The researcher added that an overwhelming majority of Russian Muslims also do not approve of polygamy, but the share of those who do was naturally larger than the one among ethnic Russians.
According to research conducted by the independent agency Levada Center in 2013, 7 percent of Russian citizens described themselves as Muslims, compared to 80 percent who call themselves Orthodox Christians. Ten percent aid they belonged to no particular faith and 3 percent said they were atheists. The share of Buddhists, Jews and followers of other major religions was under 1 percent combined.
Other researchers assess the share of Muslims in Russia as up to 15 percent, but they usually count all "traditionally Muslim peoples" as Muslims.
READ MORE: Chechen leader 'chides WhatsApp gossipers ridiculing teen bride marriage'
Polygamy was considered a criminal offense in the USSR but was decriminalized in 1997 in modern Russia. Polygamy is still not allowed and having a spouse is listed as one of the reasons obstructing the registration of a marriage. Leaders of traditionally Muslim republics and regions have repeatedly suggested allowing polygamy over the past decade, but federal authorities have not responded to these appeals.