​Moscow puts EU politicians on 'blacklist' in response to Western sanctions
Published time: 31 May, 2015 01:25
Edited time: 31 May, 2015 12:17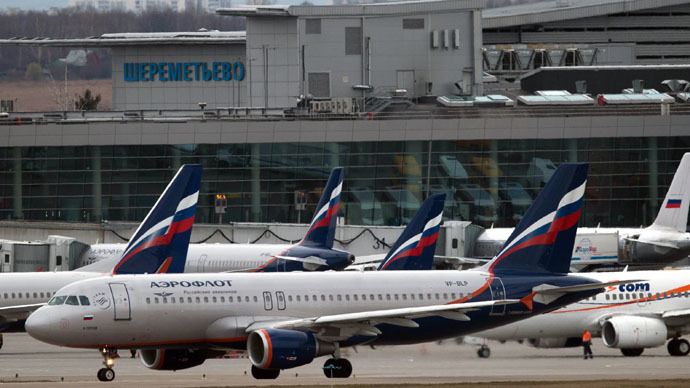 Moscow confirmed that it has sent a list of officials, who were denied entry to Russia, to the countries of the European Union, a high-ranking official at the Russian Foreign Ministry said on Saturday, according to TASS news agency.
"We would like to refrain from comments on names of the people who were barred from entering the Russian Federation, although [their surnames] appeared in some media outlets," the official told reporters. "At the same time, we confirm that similar lists have been handed to our European partners."
Earlier in the day Reuters reported on seeing a list of 89 European politicians and military leaders Russia banned an entry to Russia.
READ MORE: Islamic banking in Russia may ease effect of sanctions – head of Sberbank
The list followed a request by the EU to make the names of the sanctioned officials public in order to prevent controversial situations at the border, according to the Foreign Ministry official. However, Moscow issued recommendations for the envoys of the countries that sanctioned Russia a long time ago, urging that they apply to Russian consular offices before their trips in order to make clear that they can enter the country.
"[The lists] were handed to our European partners as a gesture of trust and their publication may weigh on the conscience of corresponding sides," the Russian Foreign Ministry official said.
"Just one thing remains unclear: Did our European co-workers want these lists to minimize inconveniences for potential 'denied persons' or to stage another political show?" he added.
"We take note that the Russian authorities have decided to share the list. We don't have any other information on legal basis, criteria and process," a spokesperson for EU foreign affairs told Reuters, adding that there had been cases when the country denied entry to a number of EU politicians, referring to a "confidential 'stop list."
READ MORE: 'Dangerous' to completely cancel foreign products – Putin
German Foreign Minister Frank-Walter Steinmeier has criticized the list.
"At a time in which we are trying to defuse a persistent and dangerous conflict, this [list] does not contribute towards that," he said
The Russian Foreign Ministry has not confirmed the information on the list, a copy of which was made available to Finnish and German media, so far.
The list includes Uwe Corsepius, current secretary general of the European Union council in Brussels, Britain's former deputy prime minister Nick Clegg and former Belgian premier Guy Verhofstadt.
Several former and acting ministers, such as Poland's deputy Justice Minister Robert Kupiecki and former British defence minister Malcolm Rifkind, as well as Swedish tax authority head Eva Lidstrom Adler have also been blacklisted.
Last Sunday night, German foreign affaires politician Karl-Georg Wellman was stopped from entering Russia at one of Moscow's airports. He aimed to take part in talks on "the future of Ukraine" and to meet Konstantin Kosachev, the international affairs committee chairman in Russia's upper house of parliament, as well as Sergei Glazyev, economic adviser to President Vladimir Putin, but learned that he was banned from traveling to the country till November 2019.
The EU delegation in Moscow confirmed they received the Russia's "black list". Soren Liborius, Head of its press and information section, told Kommersant newspaper that "We have no additional information on juridical aspects, background, or other processes connected to its compilation".