Deputy DM completely rules out war between Russia & Ukraine
Published time: 30 Apr, 2015 10:28
Edited time: 30 Apr, 2015 13:39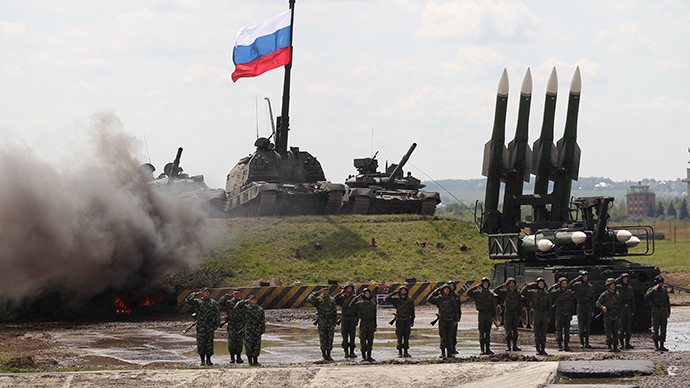 A top Russian defense official has said in an interview that Ukraine was not an enemy of Russia and ruled out even a theoretical possibility of war between the countries.
"We will not start a war with Ukraine under any circumstances. Ukraine is not our enemy. I cannot allow for even a theoretical possibility of such a development," Deputy Defense Minister Anatoly Antonov told the Komsomolskaya Pravda newspaper. "I think that Kiev will have enough sense and won't provoke us," he added.
Antonov also said that Russian authorities expected Germany and France to use their influence on the Kiev regime to prevent a new escalation of conflict in southeastern Ukraine.
When reporters asked him why Ukraine didn't take part in the international conference of security in Moscow in mid-April, the Russian deputy DM answered that it was because Russian commanders thought their Ukrainian colleagues were concentrating all efforts on a peaceful settlement of the conflict. "We did not want to make either ourselves or our Ukrainian colleagues dependent on the event," Antonov said.
"I hope that the conflict in Ukraine will be settled by peaceful means and Ukrainian experts will be able to take part in future Moscow conferences and share their experience," he noted.
Antonov also told reporters that the only Russian military officers in Ukraine were about 70 people working in the joint center for ceasefire control. He emphasized their presence was agreed with the Ukrainian Defense Ministry and was very important for Ukrainians who preferred not to have direct contacts with the representatives of the Donetsk and Lugansk republics. "Our servicemen are, in essence, both intermediaries and peacemakers," he said.
READ MORE: Russia blasts fresh US allegations on anti-aircraft systems in Ukraine as 'viral stupidity'
Russia has repeatedly denied its troops are involved in the Ukrainian conflict and emphasized the fact that none of the accusations have so far been backed by any reliable evidence. President Vladimir Putin reiterated this during his annual Q&A show on television in mid-April. "Let me be clear," Putin said: "I will say this clearly: There are no Russian troops in Ukraine."
Antonov recalled Putin's words in his interview and said that nothing could be added to it.