'Hollow threats?' New Ukraine sanctions on Russia doubted by Putin's press secretary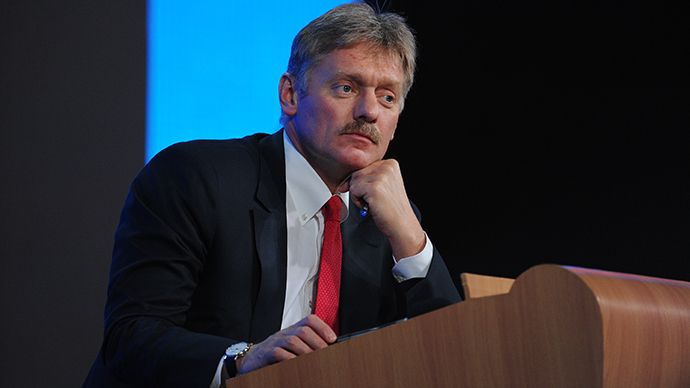 Dmitry Peskov has commented on the State Rada's resolution seeking new sanctions on Russian officials saying that the Ukrainian bill is just an empty bluff lacking legal details.
"So far I do not understand what this means on the legal plane and therefore it is impossible to say anything about it. We don't know anything about the nature of these sanctions. It can be some sort of hollow threats," Peskov said in an interview with Business FM radio. "We don't know yet if it is serious or not."
The comment came shortly after news arrived that the Ukrainian parliament, the State Rada, has asked the National Security Council to impose personal sanctions against 30 Russian officials, including President Vladimir Putin, Chairman of the State Duma Sergey Naryshkin, FSB Director Aleksandr Bortnikov and others.
The formal reason for the Ukrainian move is the case of Nadezhda Savchenko, a Ukrainian military pilot currently on trial in Russia for complicity in the killing of Russian journalists and crossing the border illegally. Russia has previously refused all calls to release Savchenko, calling them an attempt to put pressure on the justice system. At some point in the trial the suspect went on a hunger strike lasting over 80 days.She subsequently started eating again. On Monday, Savchenko's lawyers and the Russian Ministry of Justice reported that she has resumed her hunger strike and would be transferred from a pre-trial detention center to a Moscow hospital.
READ MORE: No sanctions would ever force Russia into changing its policy - Kremlin
In early March, Peskov commented on US President Barack Obama's decision to prolong the US anti-Russian sanctions, saying that the continued pressure would never affect Moscow's foreign policy. He called the sanctions "a double-edged sword" that, although causing certain discomfort to the Russian economy, was also hurting businesses in the countries that had introduced them, not to mention the world economy as a whole.
In mid-April Russian Prime Minister Dmitry Medvedev stated in a parliamentary speech that the events of the past year have demonstrated that Russian society and authorities can withstand any political or economic pressure from abroad.
You can share this story on social media: