'Shoot to kill': Chechen leader's row with Interior Ministry heats up
Published time: 25 Apr, 2015 02:42
Edited time: 25 Apr, 2015 10:31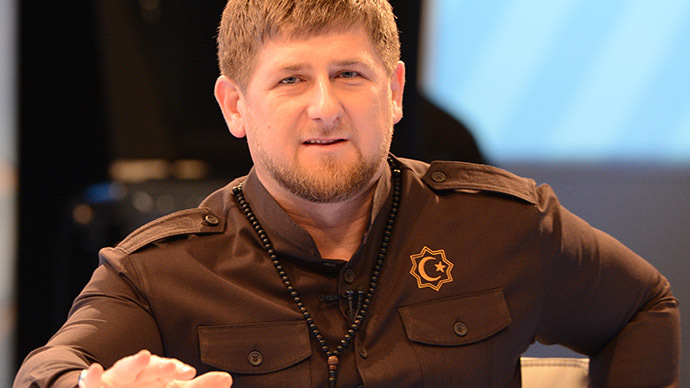 Tensions continue to rise between the Chechen leader Ramzan Kadyrov and the Russian Interior Ministry. It follows the killing of a Chechen native by police from another Russian region during arrest. Grozny has accused the ministry of distorting facts.
READ MORE: Chechen leader advocates broad amnesty for ex-militants
The scandal began after police from the neighboring Stavropol Region conducted a raid in Grozny, the capital of the Chechen Republic on April 19.
Their task was to detain Chechen native, Dzhambulat Dadaev, who was on the federal wanted list for causing grievous bodily harm.
However, the suspect was gunned down after he rammed the officers' vehicle with his car in an attempt to escape.
Kadyrov was outraged upon learning of the operation, as he said it was performed without the Chechen authorities being notified.
"I officially state that if [armed people] turn up on your territory without you knowing about this – be they Muscovites or Stavropol natives – shoot to kill. We should be reckoned with," Kadyrov said during a meeting with Chechen security officials.
READ MORE: Chechen leader blames US & Western intel for Islamic State terrorists
The Russian Interior Ministry described the controversial statement, as "unacceptable."
The ministry stressed that the Stavropol policemen informed their Chechen colleagues of the Grozny raid and were offered assistance.
In order to calm things down, Kadyrov gave an interview in which he even expressed his readiness to step down as Chechen leader, a post he has occupied since 2007.
"I'm just a foot soldier of the Supreme Commander [President Vladimir Putin]. If I'm given the order I'm ready to follow it 100 percent. If I am required to leave – I'll leave. I'm ready to die as well," he told RIA Novosti.
However, the Chechen leader then reignited the flames on Friday, issuing a statement, in which he blamed Russia's Interior Ministry for distorting the facts.
"It is known for a fact nobody within the leadership of the Chechen Interior Ministry was informed of the operation in writing, verbally or by telephone. It goes without saying that none of its staff participated in this event," the statement said.
Kadyrov also criticized the Stavropol policemen for conducting the raid wearing balaclavas, as "all Chechen residents know that those, who wear masks, are no representatives of law, but are bandits."
He added that he believes that the Stavropol policemen were simply misinformed by the Interior Ministry in Moscow concerning the circumstances surrounding the Grozny operation.
Chechnya's Investigative Committee launched a criminal case against the Stavropol policemen, who are accused of abuse of power. However, the head of the Investigative Committee, Aleksandr Bastrykin, overturned the ruling.