Russia to tighten rules for foreign-funded religious groups
Published time: 14 Apr, 2015 13:30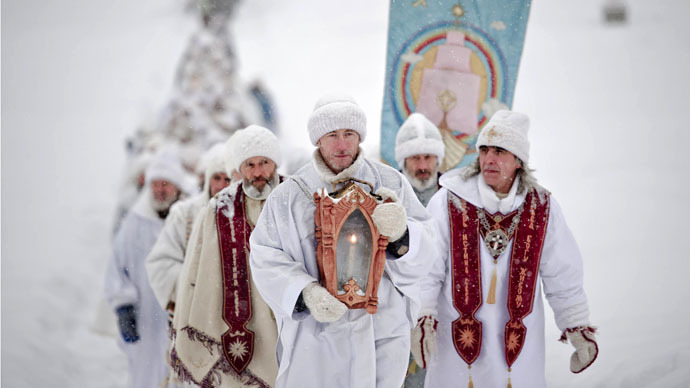 A Russian government commission has recommended to pass the bill that would oblige all religious groups that receive sponsorship from abroad to provide the authorities with detailed information about their work and their leaders.
The Justice Ministry that has drafted the bill, noted in an explanations that its main objective was to timely uncover the religious groups' involvement in terrorist and extremist activities as well as other facts of violation of the Russian law.
The draft orders that religious organizations that get money or other property from foreign and international groups, foreign citizens and persons without citizenship, should file in detailed reports about their activities and personal information about their leaders. Regional branches of the Justice ministry are charged with the task to oversee the process.
The bill will be considered at one of the nearest government sessions and then submitted to the parliament.
READ MORE: MPs suggest restricting activities of 'undesirable foreign groups' in Russia
In late 2012 Russia introduced the so called "Foreign Agents Law" that ordered all NGOs that receive funding from abroad, and that are even partially engaged in political activities, to register as foreign agents or risk substantial fines. Activists and human rights officials criticized the act for allegedly labeling the groups and warned of a possible sharp cut in foreign funding. Russian officials, including President Putin, replied that the law contained no sanctions against foreign-funded organizations and only sought to inform the Russian public better, and especially voters, of the possible motives of various participants in the political process.
In late 2014 the State Duma passed a bill that makes it illegal for Russian political parties to receive sponsorship, or enter any business deals with NGOs with "foreign agent" status.