Communists challenge conservatives' dominance in latest Russian party rating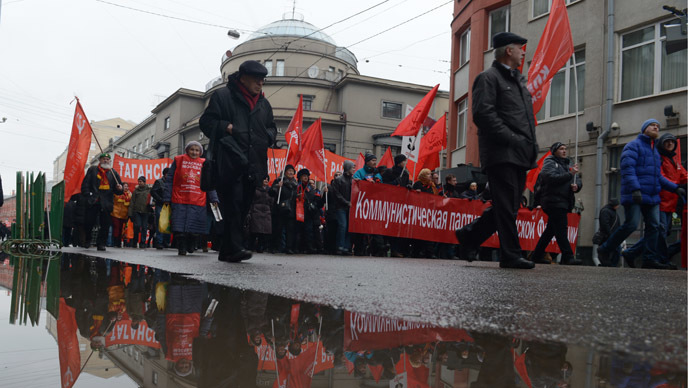 The first poll dedicated to Russia's upcoming 2016 parliamentary elections was topped by the current ruling party, United Russia, but also showed that Communists are leading in mass street events and program initiatives.
The analysis, based on data from the first quarter of 2015, was released by the Institute of Socioeconomic and Political Research (ISEPI) Thursday. The paper consists of four indices that measure the electoral activity of Russian political parties, the results of their electoral activity, their profile in media reports, and the number of public protests and other mass events.
United Russia claims a decisive victory in the overall rating and it is especially strong when it comes to regional and municipal elections. Recently, United Russia participated in four times as many elections as its main competitor, the Communist Party of the Russian Federation. The party also was way ahead of its rivals in the political effectiveness rating and in the media presence rating.
The Communists, however, dominate in the index of street events and protest activity. The deputy chairman of the party's Central Committee, Vladimir Kashin, said in comments to Kommersant daily that this can be explained by the fact that the Communists were "the only opposition force in the country" and also by the good organizational structure of protests. He also noted that the Communists were covering a broad range of issues in their actions – from support to Crimea's reunification with Russia to Vladimir Lenin's birthday.
Third place in the general rating is occupied by the Liberal Democratic party, which traditionally has a populist and nationalist agenda, while the center-left Fair Russia party took fourth place.
READ MORE: Govt approves doubling of state support to popular parties
Researchers pointed out that, for the moment, non-parliamentary parties have very little chance of victory, but added that the situation might change as the polls near.The Yabloko party, one of Russia's oldest political projects with a mixed agenda that can be described as liberal populism – took fifth place in the general rating, and analysts pointed to the possibility of Yabloko becoming the core of a new coalition of rightist opposition.
The ISEPI analysis confirms the results of the March opinion poll, conducted by the Levada independent research center, in which a very small percent of future voters agreed with the current demands of opposition politicians and promised support to opposition parties in future elections. At the same time, 58 percent of Russians agreed with the statement that the opposition is a necessary part of the political system. Twenty-two percent of respondents opposed the existence of opposition movements in the country, saying they only atomized society by causing unnecessary conflicts.