Govt approves doubling of state support to popular parties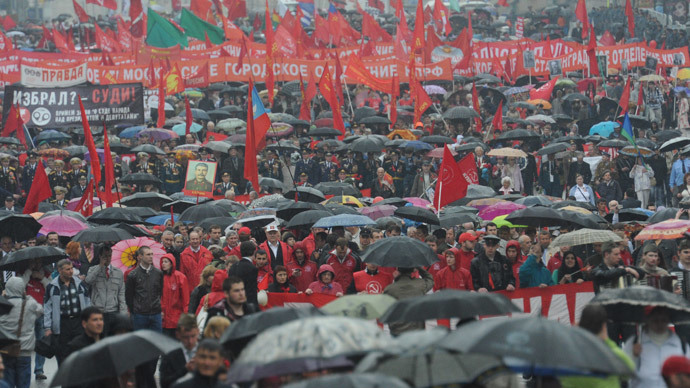 The Russian government has given the go-ahead to a bill that, if passed, would allow parliamentary parties to receive about $3 of state support for every vote they secure at the elections.
The bill has been prepared jointly by all four parliamentary parties – the conservative United Russia, nationalist LDPR, center-left Fair Russia and leftist Communist Party of the Russian Federation. The lower house will vote on it in the first reading on Friday.
According to fresh amendments, any party that gets 3 percent of votes or more at parliamentary polls will receive 110 rubles (about $2.89) per vote per year – more than twice the current 50 rubles ($1.30). The passing threshold at the parliamentary elections is 5 percent and presently there are five parties that would benefit from the change – all the parliamentary ones and the veteran liberal party Yabloko.
At the same time the new bill cancels the annual indexation of state donation to parties.
The sponsors of the bill have calculated that its implementation would require about 7 billion rubles (over $185 million) of state funds in 2015. The current federal budget and budget drafts allocate the same amount of money for the purpose in 2015, 2016 and 2017.
MP Mikhail Markelov (United Russia) told RBC news agency the new bill would add responsibility and transparency to the work of Russian political parties.
"The parties are always looking for sponsors at elections, but the sources of their finances are not always honest. Money can come from people who got it through illegal schemes," he said.
The head of the State Duma Regulations Committee, MP Sergey Popov (United Russia), also said that the motion would help to destroy the parties' ties with controversial sponsors and make them self-reliant. At the same time it would increase the public control over the finances used by political groups and therefore add to democracy in the country, the MP said in a statement published on his party's website.
"All our opposition parties claim that they are ready to stop cooperating with questionable sponsors, but need stable financing to continue their normal work. The fact that the initiative originates in all parliamentary caucuses is a proof to the fact that the parties are ready to take part in the new scheme, together with the state," Popov added.
The State Duma is already considering a bill that bans political parties from receiving sponsorship through intermediaries. It was submitted to the parliament in mid-June this year by President Vladimir Putin.