Public uninformed & skeptical about party system in Russia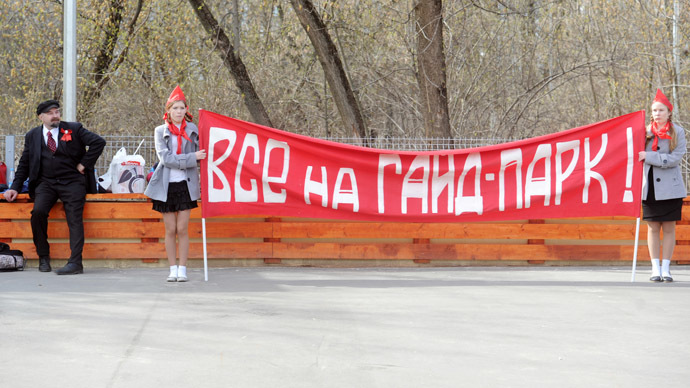 As the number of political parties continues to rise after the recent relaxation of registration rules, most Russians claim they don't need any new groups - even though one in three citizens believe they lack proper political representation.
According to the opinion poll conducted by the VTSIOM agency in early May this year, 64 percent of respondents said that the current number of political parties in the country was sufficient. Two years ago that figure was 55 percent.
As to whether they knew of a party that represented their interests, 35 percent replied that there was no such party.
At the same time, 39 percent of Russians said they did not understand what political parties were for (compared to 28 percent in 2012). Nineteen percent said the main objective was to unite people with similar interests, 12 percent named political competition, while 8 percent said that that that parties were needed to write and pass new laws.
Two percent of citizens hold that there is no need for political parties in Russia.
A further 8 percent said the country needs a movement to protect the simple people's interests, and less than 3 percent said they lacked a socially-oriented party or a part of justice and honesty.
According to the poll, the level of support for a nationalist party was near zero (compared to just 1 percent two years ago).
The head of the VTSIOM agency, Valery Fyodorov, blamed the growth of nihilistic moods on the fact that the parliament had little control of the government.
"The main role of political parties lies in the sphere of legislative elections. Due to the constitutional system, all decisions are made by the president and there is no need for parties in the presidential elections," Fyodorov told the Kommersant daily.
In addition, the chief pollster noted that the recent accession of the Crimean Republic into the Russian Federation had shown that all legislators were unanimous on really important issues and this made people question the role of political opposition.
The political reform benefitting smaller parties commenced about three years ago, during Dmitry Medvedev's presidency. The changes included reducing the minimum number of party members from 40,000 to 500. A minimum requirement on regional branches was also dropped, however parties must be represented in at least half of Russia's 95 federal regions.
The reform triggered an invigoration in Russian political life – new parties began to appear and old parties that merged into larger movements started to re-register as independent projects.
Presently the number of parties registered with the Justice Ministry approaches 80, but only four of them are represented in the parliament - the centrist conservative United Russia, center-left Fair Russia, the Communist Party of the Russian Federation and the populist nationalist Liberal Democratic Party.
You can share this story on social media: