Prosecutors seek to strip rogue MP of immunity over graft charges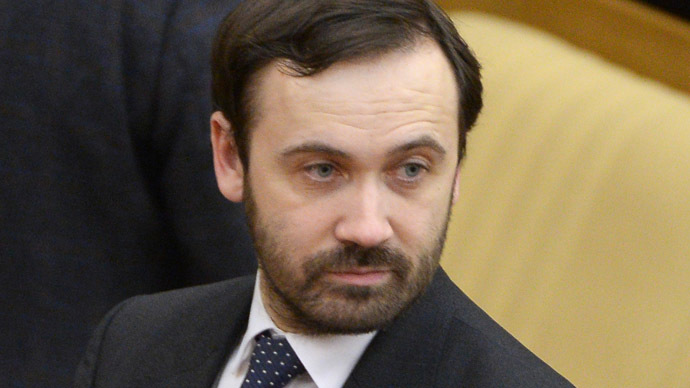 Law enforcers have initiated the procedure of lifting parliamentary immunity for Ilya Ponomaryov, the MP involved in a major corruption scandal who was expelled from a left-leaning Duma party for backing street protests.
State Duma Speaker Sergey Naryshkin confirmed he had received a request from the Prosecutor General's Office and forwarded it to the regulations committee. Naryshkin told reporters that prosecutors asked for the parliament's permission to start a criminal case against Ponomaryov on charges of complicity in graft or squandering of state funds.
The Russian law allows criminal probe against an elected parliamentarian only after immunity is lifted by a general vote of the house in which the lawmaker sits.
The head of the State Duma Regulations Committee, Sergey Popov, has said that the Duma could have a vote on Ponomaryov's immunity on April 7.
Ponomaryov, who is currently outside Russia, told reporters in a video conference that he did not intend to return as that would be tantamount to voluntarily going to prison. He added, however, that he will return if the State Duma votes against the criminal probe against him.
READ MORE: Skolkovo vice president suspended over graft case
The scandal involving Ponomaryov and the Skolkovo foundation dates back to early 2013, when a team of investigators discovered that a senior vice-president of the Skolkovo innovation hub had paid the MP $750,000 to deliver 10 lectures and one research paper.
The probe and subsequent court hearings proved these allegations to be true. The executive in charge was suspended and the MP was ordered to return the money. Ponomaryov pleaded not guilty, saying that the fees were fair and proportionate to the amount of work done, but in mid-2014 he left Russia over fears that Russian bailiffs could ban his exit from the country over an unpaid debt.
Since then Ponomaryov has been residing in the United States.
Ilya Ponomaryov was elected to the State Duma in 2007 and 2011 on the ticket of center-left political party Fair Russia. However, Fair Russia moved to expel him in 2012 for taking part in street protests against alleged violations in the 2011 parliamentary polls.
READ MORE: Leftist party may expel MP over 'anti-Russian activities'
Fellow parliamentarians, including Fair Russia leader Sergey Mironov, said that if Ponomaryov considered the elections to be unfair, he should not occupy the seat received in the very same elections. However the MP refused to leave.
In October 2013, Ponomaryov announced that he was quitting the Fair Russia party, but would remain in the State Duma as Russian law allows this.
In September 2014, Fair Russia even suggested changing the basic parliamentary law so, presenting an opportunity to free the seat occupied by Ponomaryov, but this has not happened so far.
You can share this story on social media: