Skolkovo vice president suspended over graft case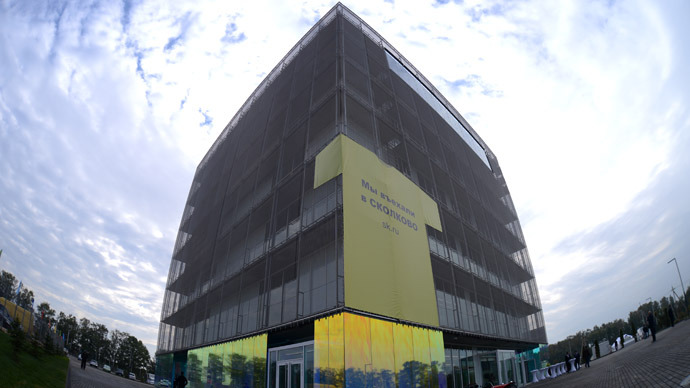 A senior vice president of the Skolkovo innovation fund has been suspended as investigators summoned an opposition MP for questioning over exorbitant fees for a set of lectures.
According to investigators, the suspended executive, Aleksey Beltyukov broke the law when he paid MP Ilya Ponomaryov $750,000 for 10 lectures and one research paper. Law enforcers suspect the price was inflated and some of the lectures were not even delivered, and thus the whole scheme falls under definition of graft.
On Tuesday the RIA-Novosti news agency reported that Beltyukov was suspended from his post in late April and he has submitted a voluntary resignation claiming that it was too difficult to continue his work during the probe.
Ilya Ponomaryov told reporters on Tuesday that he was going to attend an interrogation by Russia's top law enforcement agency – the Investigative Committee. The MP said the questioning would concern the graft case and added that he was sure he could answer all questions.
The scandal over the Skolkovo lectures enfolded in mid-April. Investigators raided the technology hub initiated by Russian MP Dmitry Medvedev (who was Russian President when Skolkovo started) and questioned its billionaire director Viktor Vekselberg. Initially it was reported the operation was connected with another case of suspected embezzlement, but after a search the investigators decided to concentrate on Ponomaryov's services and fees.
The Investigative Committee suspected that Beltyukov tried to cover up an embezzlement by preparing a contract under which Ponomaryov had to present 10 lectures at $30,000 each and prepare a research paper for a fee of $450,000. After an initial investigation the agency released a report saying that they managed to verify only two of Ponomaryov's lectures, of which one lasted 12 minutes and the other 18 minutes. They also added that they found out that Ponomaryov had not attended at least one lecture he was paid for.
Ilya Ponomaryov now enjoys parliamentary immunity but can be stripped of it by a Lower House vote. The crime he is suspected of can be qualified as large scale embezzlement which is punishable by up to 10 years in prison. At the moment the parliamentarian enjoys witness's status.
In several interviews the MP admitted that he had received money from Skolkovo, but the contract was genuine and all his actions were legal. He also said that the case against him was politically-motivated and added that it would be sad if the whole Skolkovo project perished because of the anti-corruption steps.
On April 26 the Skolkovo Foundation filed its own lawsuit against Ponomaryov. The head of the foundation ViktorVekselberg emphasized that it was impossible to foresee that a respected politician would forge the reports about the services he was paid for. 
In early May Deputy Prime Minister Vyacheslav Surkov backed the Skolkovo project and executives in his lecture  at the London School of Economics. Surkov said that this project was one of the cleanest in Russia. He noted that the fund's director Viktor Vekselberg was among Russia's richest people and it was difficult to imagine that such man would be stealing .
The Deputy PM also chided the Investigative Committee over excessive drive and exaggerations in their official statements. "The energy with which the Investigative Committee is publishing its proposals make common people think that actual crimes have been committed. But this is nothing but the agency's vigor. I suggest that they prove someone guilty and we see if they are capable to prove anything," Surkov noted.
These statements almost immediately drew a reaction from the Investigative Committee's press secretary Vladimir Markin. In a newspaper article published on Tuesday he wrote that it was very common in Russia that the managers suspected of theft and graft claim that their processes are politically motivated and called upon the public not to pay attention to these "woeful songs".
Markin did not directly name Surkov, but blasted his behavior as unethical, asking if it was possible for a British cabinet minister to retain his seat after publicly criticizing Scotland Yard while on a foreign visit.
Surkov refused to comment on Markin's article, only calling the spokesman "an obsessive writer".
You can share this story on social media: