Leftist party may expel MP over 'anti-Russian activities'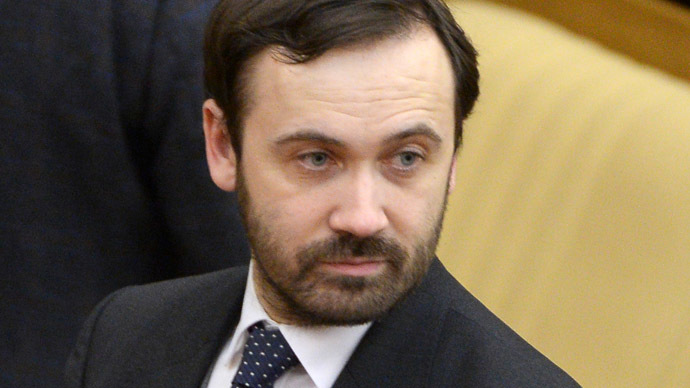 The Fair Russia party is looking to change Russian parliamentary law to strip their member, Ilya Ponomaryov, of State Duma mandate as the lawmaker's activities allegedly harm the national interests.
Deputy head of the Fair Russia caucus in the Lower House, MP Mikhail Yemelyanov, has told the popular daily Izvestia that the decision was prompted by Ponomaryov's opposition to the accession of the Crimean Republic into the Russian Federation, and called other State Duma deputies "crooks and thieves" at opposition rallies.
"How can one do all this and remain a representative of the legislative power?" Yemelyanov asked.
According to the Fair Russia representative, Ponomaryov will be expelled from parliament as soon as the new "Law on Imperative Mandate" comes into force. If passed the bill would allow parties to take away Duma seats from deputies elected on party lists and pass them to those who the party leaders consider worthy. Presently it is supported by all parliamentary factions except the majority caucus United Russia, but Fair Russia leader Sergey Mironov has recently presented the document to Vladimir Putin and reportedly received backing from the president, whose word is gospel to United Russia.
MP Ponomaryov is currently in the US over fears that Russian bailiffs could ban his exit from the country over an unpaid debt to the state-sponsored innovation hub, Skolkovo. The deputy must return 2.7 million rubles (about $93,000) that he received from Skolkovo in fees for several lectures, causing a major scandal.
In his comments to Izvestia, Ponomaryov promised to return and continue working in the State Duma, with his deputy's salary being sufficient to cover the debt. "Starting from September 1, I will be getting 450,000 rubles a month – without taxes it will make about 350,000. It means that the 2.7 million rubles of debt will be completely repaid in eight months," the politician told reporters.
The State Duma regulations committee said in earlier comments that all MPs must participate in parliamentary sessions in person, but added that the law did not envisage any sanctions against violators of this rule.