'Slap sanctions on nations that supply weapons to Ukraine' - Communists to PM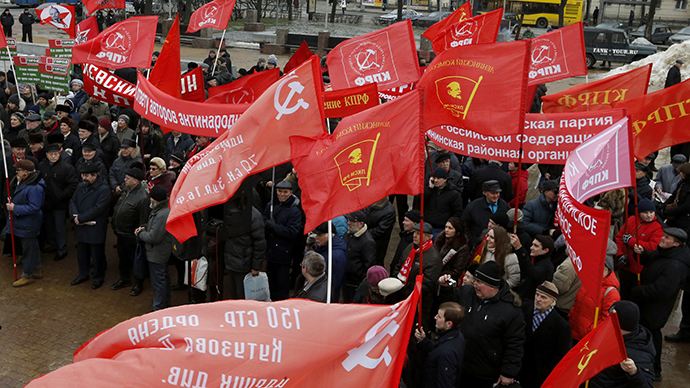 Two Communist Party officials are asking Russia's prime minister to consider sanctions against countries that send arms to the Ukrainian military, saying it would relieve tensions and be a good response to sanctions against Russia.
The letter to Dmitry Medvedev was signed by deputy head of the Communist Party Valery Rashkin and the secretary of the central committee, Sergey Obukhov. They write that over the past several months, the mass media have repeatedly reported on weapons supplies to Ukraine by various nations, both openly and discreetly. This facilitates the continuation of the military conflict in the southeast of that country, they maintain.
In their letter Rashkin and Obukhov also pointed out that several nations, starting with the US, had previously introduced and deepened economic sanctions against Russia over its alleged role in the Ukrainian conflict. This allows Russia to reciprocate by slapping sanctions against countries that take part in the war by supplying weapons and other military hardware.
Obukhov told the popular daily Izvestia that the main objective was to contribute to a peaceful settlement in Ukraine and therefore he and his colleague support a compromise with the EU in general and its leading members, such as Germany and France.
READ MORE: US refusal to send weapons to Ukraine gives peace a chance – top Russian MP
"But why should we be subtle with such warmongers as Poland or Lithuania? Polish and Lithuanian mercenaries are already actively involved in the Donbass conflict and plans exist to legalize their military presence near Russian borders by launching a joint Ukrainian-Polish-Lithuanian force under NATO's aegis. We cannot limit ourselves to diplomatic notes of protest, we must think about economic sanctions against these states," he said.
Obukhov went on to accuse Lithuania and Poland of "sponsoring, and de facto committing, mass killings of ethnic Russians in Donbass" and said that if such actions are left unpunished Russia would lose the respect of the international community.
The authors gave several examples of reports about foreign-made weapons and equipment used by the Ukrainian military in the Donbass conflict and quoted the head of Russia's mission in NATO, Aleksandr Grushko, who recently said that there was proof of use of such weapons by pro-Kiev forces.
Rashkin recalled in an interview with Izvestia that Lithuania's envoy to the United Nations had practically admitted the fact that his country supplied weapons to Ukraine, which is a violation of Lithuania's obligations in international treaties on conventional weapons in Europe.
"The Lithuanian president has already stated that the first round of war with Russia had started. How can we keep pretending that there is nothing extraordinary going on? Why should we keep doing business as usual with such provocateurs?" he added.
The Communists' proposal to Medvedev reads that Russia should immediately introduce sanctions against Lithuania, such as a complete ban on Lithuanian imports and an entry ban to all Lithuanian politicians responsible for the "Russophobic policy" of that state. Russia should also recall its ambassador from Vilnius for political consultations, they suggest.
READ MORE: Ukraine should observe peace accords or return Russian loans - Communists
Earlier this month Rashkin and Obukhov sent another letter to Medvedev suggesting that the Russian government should forward an ultimatum to Ukraine and demand the full return of multi-billion-dollar credits if official Kiev fails to observe the ceasefire agreements.
Before that the two politicians suggested that Russian law enforcers should impound the Russian assets of Ukrainian billionaire-turned-President Petro Poroshenko in order to punish him for the 'war crimes' of the Ukrainian military.
You can share this story on social media: