Ukraine should observe peace accords or return Russian loans - Communists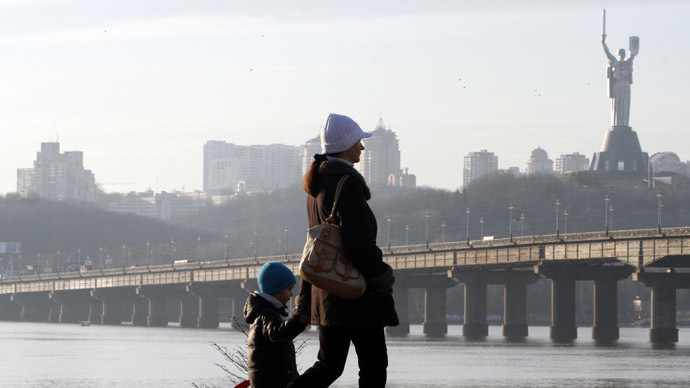 Two Communist party MPs say the Russian government should forward an ultimatum to Ukraine and demand the full return of multi-billion-dollar credits if official Kiev fails to observe the ceasefire agreements.
Valery Rashkin and Sergey Obukhov addressed the Russian authorities with an open letter in which they suggested that the Kiev regime be presented with an ultimatum – either it fully implements all ceasefire agreements with the self-proclaimed republics in the southeast of Ukraine, stops political repressions and restores accreditation of Russian mass media or the Russian government and Russian banks demand immediate return of all loans extended to Ukraine.
These obligations could include the $3 billion in two-year Eurobonds that Russia purchased from Ukraine in 2013. In their letter, Rashkin and Obukhov recalled that in mid- January this year, Russian Finance Minister Anton Siluanov announced that the Russian government could demand the return of this loan as the Ukrainian government had violated one of its conditions by allowing the state debt to exceed 60 percent of the country's GDP.
READ MORE: Russia will not restructure Ukraine's $3bn debt – finance minister
In addition, Ukrainian enterprises owe about $25 billion to Russian banks and the Ukrainian state energy companies face about $2.4 billion for forward deliveries of Russian natural gas, the communists write.
On this background the Ukrainian authorities continue their anti-Russian and authoritarian line, by officially recognizing Russia an aggressor country and by repeatedly violating the Minsk agreements aimed at ending the military conflict in the Donetsk and Lugansk Regions, the politicians say. To end this situation, the Russian government should pass an official ultimatum to Kiev, they maintain.
The suggested formula of the ultimatum is as follows: Ukraine must withdraw heavy weaponry from the zone of the conflict on a par with federalists, Kiev must take under full control all of its military formations, including the Right Sector group, cease fire and observe all other provisions of the Minsk peace accords signed on February 12.
If these conditions are not met, Russian government and banksmust demand the immediate repayment of all loans, and Russian natural gas company Gazprom must take urgent measures against the reversal supplies of Russian natural gas to Ukraine from European countries.
In the latter case, Russia could use the received funds for support of its own industry and agriculture, banking sector and small businesses, the Communists state.
Earlier this year Rashkin and Obukhov published an open letter to Russian law enforcers in which they sought the impounding of the Russian assets of Ukrainian billionaire-turned-President Petro Poroshenko in order to punish him for the 'war crimes' of the Ukrainian military. This initiative has seen no results as according to the Russian law property can be impounded only when there is suspicion that it was used in some particular crime.