No plans for visa regime with Ukraine – Russia's immigration chief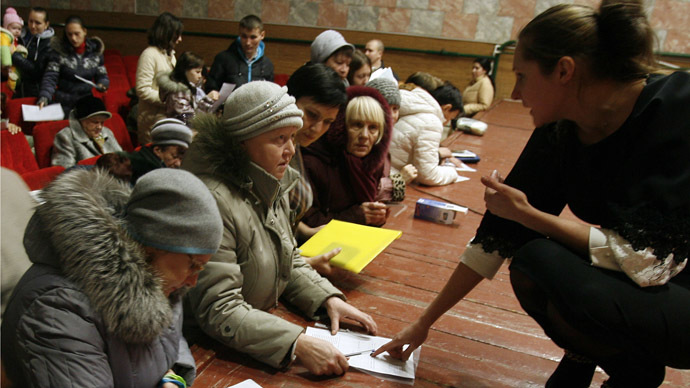 There will be no visa regime for Ukrainians, the head of Russia's Federal Migration Service says. However, as of 2015 all previously-introduced migration benefits for citizens of Ukraine will be canceled.
The current lenient attitude to immigrants from Ukraine will be replaced by a normal regime as soon as January 1, Konstantin Romodanovsky stated in an interview with Rossiiskaya Gazeta.
However, he emphasized that Russia was not planning "to take the path of complicating the situation for citizens of a brotherly nation who now find themselves in a very complicated situation due to an internal conflict."
Romodanovsky especially noted that there would be no changes for people who had been forced to leave Ukraine and cannot return to their homeland for objective reasons.
According to the Federal Migration Service there are 850,000 such immigrants in Russia at the moment. Some 40,000 of them have chosen to permanently relocate to the Russian Federation using the "program of compatriots' resettlement" – a set of benefits for ethnic Russians whose ancestors once lived on the territory of the present Russian state.
Such people receive residence permits and citizenship through a simplified procedure, and also monetary aid, help with settlement and jobs.
However, Romodanovsky promised that for ordinary Ukrainian citizens the rules would become standard again – they would be able to stay in Russia without a visa or work permit for 90 days every six months and those who illegally stay in Russia for over a year would be banned from entry for 10 years.
Romodanovsky told reporters that the restrictions were just and completely ruled out that they would negatively affect the Russian economy, which still needs to bolster its workforce, including migrant workers.
Russia has the second-highest number of resident migrants in the world, according to a UN study released in September 2013. The total number of migrants in Russia is estimated at about 2 million and Russian law enforcers claim that about half of them live and work in the City of Moscow.
After radical nationalists enforced the change of power in Ukraine in 2014 and a military conflict broke out there, up to a million people from this country arrived in Russia reeking refuge. Most of them have stayed in Russia without registration, but over 220,000 applied for refugee status and about 200 000 were granted it.
Russian authorities have altered the rules and laws to help the Ukrainian refugees and immigrants. In late August, Deputy PM Olga Golodets said in a radio interview that all Ukrainian refugees of pension age would receive their pensions in Russia, and all refugees' children will have the opportunity to study in Russian schools.
In mid-august the Presidential Council for Human Rights proposed fast-tracking the acquisition of Russian citizenship for Ukrainian refugees.
You can share this story on social media: