Ukrainian refugees to receive Russian pensions - minister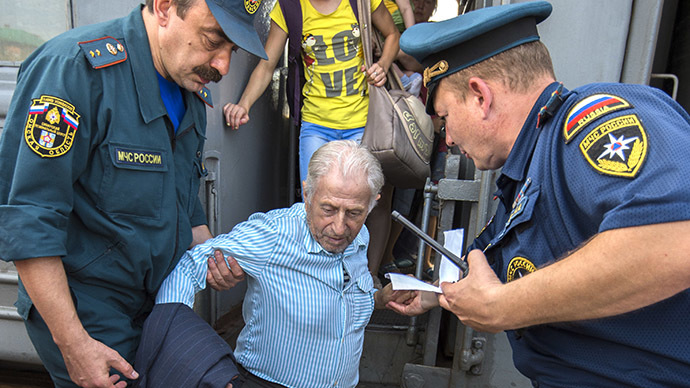 All Ukrainian refugees of pension age will receive their pensions in Russia, Deputy PM Olga Golodets has said in a radio interview.
She oversees the social and health policies of the government, and said that Russia and Ukraine had a bilateral agreement allowing citizens to receive pensions in another country if the need arises. "We will pay the pensions to the refugees," Golodets told reporters. She declined to expand on the approximate number of future recipients saying that the number of Ukrainian refugees in Russia was constantly growing.
The deputy PM also told reporters she estimates about 50,000 Ukrainian children will start attending Russian schools at the beginning of the new academic year on September 1.
Earlier this month the United Nations released a report estimating the number of Ukrainian refugees in the Russian Federation at 730,000. Russian Foreign Minister Sergey Lavrov said on Thursday that this number was nearing 1 million.
Russian officials and human rights activists have repeatedly called for steps to make the life of Ukrainian refugees easier, and the Federal Migration Service has already introduced some measures.
In mid-august the Presidential Council for Human Rights urged the authorities to simplify the procedure for getting official refugee status and temporary asylum for Ukrainian citizens arriving in Russia from the regions engulfed in the conflict. The activists added that all Ukrainian refugees must be allowed to work in Russia without acquiring additional documents and receive medical insurance.
Earlier they had suggested to fast-track acquiring Russian citizenship for Ukrainian refugees.
At the end of July, the head of Russia's Federal Migration Service, Konstantin Romodanovskiy, said Ukrainian citizens would be allowed to prolong their 90-day visa free stay by another 180 days, adding that they also will not be punished for minor violations of migration rules.
The Federal Migration Service has proposed a public discussion on a bill giving regional migration officials the authority to grant temporary asylum to Ukrainians within three days instead of the current three months, cancel the obligatory health test, and stop deporting and extraditing Ukrainians until ordered otherwise by the Russian government.
In June the head of the presidential administration, Sergey Ivanov visited a refugee camp in the Rostov Region and suggested giving Russian citizenship to people born on Russian soil; the current law only automatically grants citizenship to children of Russian parents.
You can share this story on social media: