Russia offers extended visa-free stay to Ukrainian refugees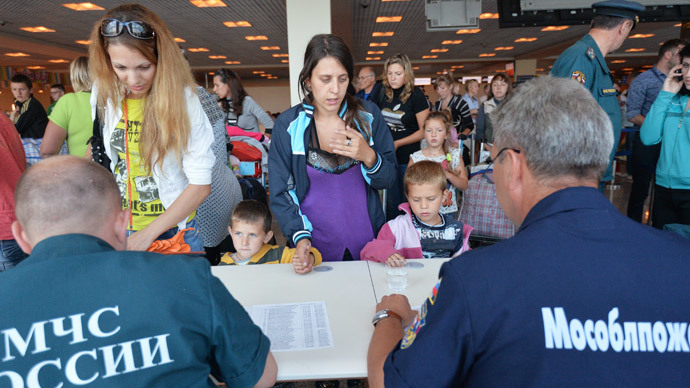 The head of the Federal Migration Service says Ukrainian citizens will be allowed to prolong their 90-day visa free stay by another 180 days, adding that the number of refugees from the war-torn Ukrainian regions could reach almost half a million.
Konstantin Romodanovskiy said Russian migration officials would not punish Ukrainians for violating the visa regime, but his agency would continue to monitor the situation in Ukraine.
According to Romodanovskiy, as many as 490,000 Ukrainians could seek asylum in Russia in the near future. "We understand that these are potential seekers of refugee status. If God allows, this would never happen but we are realists and we understand that there is a possibility," Romodanovskiy said.
The UN agency for refugees reported in early July that over 110,000 people had arrived to Russia from Ukraine since the beginning of the military conflict in the Donetsk and Lugansk regions. However, only about 10,000 of them have officially applied for asylum or refugee status.
That can be explained by the fact Russia allows Ukrainians to stay without a visa for 90 days and many people preferred to address more urgent problems and delay the bureaucratic procedures for later.
Russia's Deputy Emergencies Minister Vladimir Artamonov announced last week that the influx of refugees had already prompted an emergency situation in the six regions closest to the Ukrainian border. Two more regions are currently in the "elevated readiness", he added. In total, 40 regions of the Russian Federation are receiving Ukrainian refugees.
Earlier, the Federal Migration Service proposed for public discussion a bill allowing regional migration officials the authority to grant temporary asylum to Ukrainians within three days instead of the current three months, cancel the obligatory health test, and stop deporting and extraditing Ukrainians until ordered otherwise by the Russian government.
In mid-June the head of the presidential administration, Sergey Ivanov visited a refugee camp in the Rostov Region and suggested giving Russian citizenship to people born on Russian soil (the current law only automatically grants citizenship to children of Russian parents).
You can share this story on social media: