Sakharov monument unveiled in his city of exile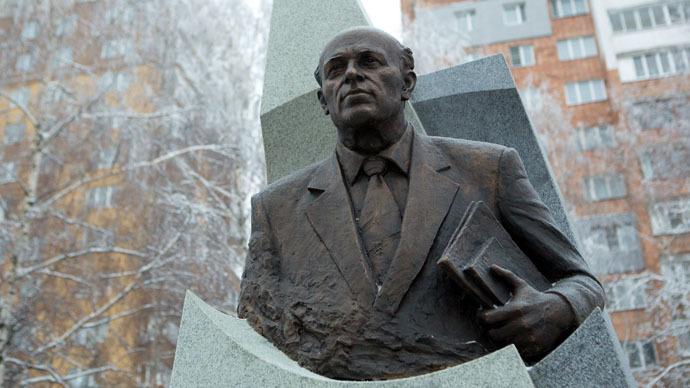 A monument to Andrey Sakharov, the renowned Russian scientist and HR campaigner, the "father of H-bomb" and Nobel Peace Prize winner, has been unveiled in the central Russian city of Nizhny Novgorod on Friday.
A bronze bust of Sakharov sits on top of a granite boulder near the museum that has been opened in the apartment where he spent his years of exile.
Friday's unveiling was dedicated to the 25th anniversary of Sakharov's death on December 14th.
The monument was built after a public fundraising campaign started by the pro-business rightist party Civil Platform and its founder billionaire Mikhail Prokhorov. He donated 5 million rubles, or about US$100,000 last December.
The ceremony was attended by Sakharov's son and grandson, city and regional officials and human rights activists.
First a committed Stalinist, and then a severe critic of the Communist regime, "the father of the Russian H-bomb," who turned against nuclear proliferation and protested against atmospheric testing, showed Sakharov's life was full of paradoxes. However, the mind behind the most powerful weapon ever, was a confirmed pacifist and an opponent of the arms race.
His efforts were behind Moscow's agreement to the Partial Test Ban Treaty in 1963 and in the late 1960s he campaigned for a ban of ballistic missile defense systems, arguing they would give the Soviet and American governments a false sense of security, and raise the likelihood of a total nuclear war.
Sakharov was also one of the first human rights activists in the Soviet Union who criticized Communist policies and disclosed the existence of political prisoners in the country. In 1975 he received the Nobel Peace Prize for his struggle.
Eventually, the scientist's stance caused him fall out of favor with the Communist authorities. In 1980 he was exiled to the city of Nizhny Novgorod where he spent almost seven years. He was released with the beginning of Perestroika, and in 1989 was elected to parliament where he prepared the first draft of the new democratic Constitution.
Andrey Sakharov died in 1989, but his legacy lives to this day. It's believed his last words were: "Tomorrow is yet another fight."