'Refugees who refuse offered jobs must be deprived of aid' – nationalist MP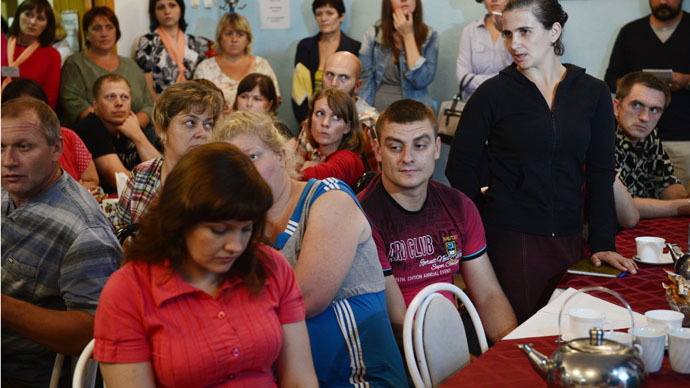 A Liberal Democratic lawmaker has drafted a bill proposing the stoppage of benefit payments to refugees if they refuse to take jobs offered by Russian employment centers.
MP Roman Khudyakov of the LDPR party explained the necessity of the move by the fact that, according to his information, many refugees were abusing the current Russian benefits system. In Russia, people who are officially recognized as refugees receive state aid if they have no job and no means for existence. Often people refuse the job they are offered in order to keep the state aid, he claimed.
The new motion covers a blind spot in the legislation and also draws the public attention to the useless spending of government funds, Khudyakov said. He suggested depriving refugees of state aid if they refuse a job offered by the official employment service three times.
Populist-nationalist party LDPR, and Khudyakov in particular, is known for bills urging more control on immigrants and Russian citizens alike. One of the latest initiatives was a bill requiring universal fingerprinting and DNA profiling of all Russian citizens for security reasons. Before that, Khudyakov suggested total fingerprinting of all foreigners arriving in the country.
Russia has the second-highest number of resident migrants in the world, according to a UN study released in September 2013. The total number of migrants in Russia is estimated at about 2 million and Russian law enforcers claim that about half of them live and work in the capital.
The situation aggravated even further in 2014 after up to a million Ukrainians arrived in Russia fleeing the war and the radical nationalists' actions in the east and southeast of Ukraine. Most of them stayed in Russia without registration, but over 220,000 have applied for refugee status and about 200 000 of were granted it.
Russian authorities have altered the rules and laws to help the Ukrainian refugees and migrants. In late August, Deputy PM Olga Golodets said in a radio interview that all Ukrainian refugees of pension age would receive their pensions in Russia, and all refugees' children will have the opportunity to study in Russian schools.
In mid-august the Presidential Council for Human Rights suggested to fast-track acquiring Russian citizenship for Ukrainian refugees.
At the end of July, the head of Russia's Federal Migration Service, Konstantin Romodanovsky, said Ukrainian citizens would be allowed to prolong their 90-day visa-free stay by another 180 days, adding that they also will not be punished for minor violations of migration rules.