Bill to have all Russians fingerprinted and DNA profiled submitted to parliament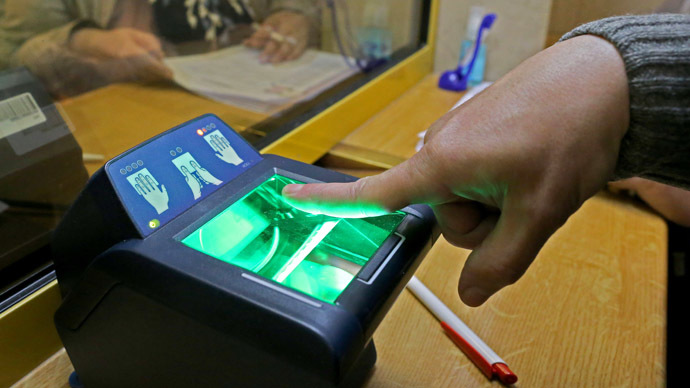 MPs from the populist nationalist party LDPR have prepared and drafted a motion requiring universal fingerprinting and DNA profiling of all Russian citizens for reasons of security.
The main sponsor of the bill is Roman Khudyakov, known for previously wanting the urban population of the country, including visitors and foreigners, to be fingerprinted. This time the lawmaker opted for the "biometrical registration" of all Russians, which essentially means fingerprinting and DNA-profiling of everyone. The information would be held in a central government database and each citizen would be provided with the details on a so called "bio-card." The bill suggests the setting up of a special federal agency in charge of the biometrical scanning, reporting either to the Interior Ministry or to the Federal Security Service, the FSB.
In comments to the popular daily Izvestia, Khudyakov urged his plan be put into practice as soon as possible saying that it would help law enforcers and society. The politician said that in the near future the program would allow the scrapping of other forms of ID and significantly cut red tape. In addition he assured reporters that ordinary Russians should not fear over the security of their personal data.
"All information will be protected. It is like a bank card. We will also toughen the criminal responsibility for officials who have access to the data. When people face three years in prison for leaking the data no one would be tempted to do this," he said.
Khudyakov also suggests keeping the data for 150 years from the date of collection, and then it would be destroyed. The biometric cards of the dead could be kept by state agencies for the same period of time and then disposed of.
The bill allows for voluntary biometrical registration by citizens, and by parents for their children, in which case the applicants will have to pay for it. However, the procedure will be obligatory and free for all civil servants, law enforcers, military and security personnel, convicts, firemen, rescuers and people applying for a driving license or gun permit. Biometrical scanning will be done for those who want to travel abroad and for foreigners who arrive in Russia and also for many other categories. Experts have noted that if introduced the procedure would cover all Russian residents over age of 14.
At present Russian law enforcers use the Automated Fingerprint Identification System or ADIS to hold data on convicted criminals and military personnel.
The universal and obligatory fingerprinting was suggested by Russia's top prosecutor Aleksandr Bastrykin in 2010, but lawmakers put off a decision citing the high costs of the system and the need to ensure its legality.
You can share this story on social media: