Duma won't turn its back on new Ukrainian parliament - lawmaker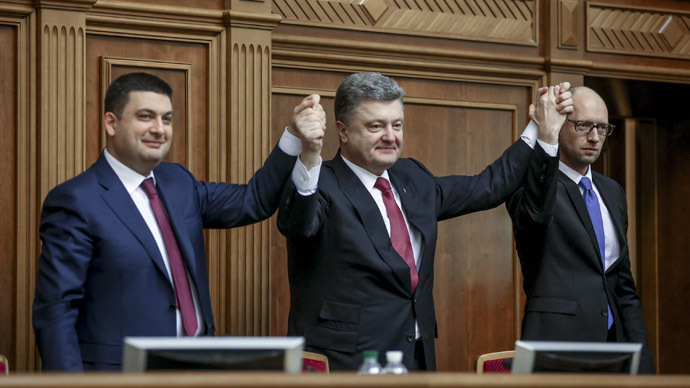 Russian Lower House says it will not shun contact with the newly elected Supreme Rada in Ukraine, said the head of the State Duma committee for Eurasian integration.
However, MP Leonid Slutskiy (Liberal Democratic Party) said he thought the new parliament would not look after the interests of the Ukrainian people but rather fulfill the orders of "foreign handlers."
"The name of their majority coalition is European Ukraine and it speaks for itself. Western handlers will keep running the country as the Rada is now turning into a puppet parliament," the Russian news agency TASS quoted the lawmaker as saying.
Slutskiy also said that he was not surprised by Arseniy Yatsenyuk's candidacy for Ukrainian Prime Minister as apparently this had been coordinated and agreed with US Vice President Joe Biden during his recent visit to Kiev.
The Russian parliamentarian said it was difficult to make any forecasts when the Ukrainian Rada is completely blocking the work of opposition MPs who represent at least 4 million Ukrainian citizens, but said he was sure that the State Duma would not shun any constructive contacts.
"We are for resuming the dialogue and for the restoration of peace in the brotherly nation under condition that all Minsk agreements are observed and the interests of Russian speakers and Russian citizens are fully protected," Slutskiy said.
The Deputy Head of the Upper House Committee for Foreign Relations, Vladimir Dzhabarov (Jewish Autonomous Region) said that Russian politicians hoped for pragmatism and cooperation on the part of the newly elected Rada speaker Vladimir Groisman.
"He represents the Poroshenko bloc and this is probably better than being from a right bloc or Oleg Lyashko's party. Probably there will be some pragmatism in his approach," Dzhabarov said. Petro Poroshenko is the new President of Ukraine and Oleg Lyashko represents extreme nationalists.
The 450-member Ukrainian parliament, the Supreme Rada was formed after extraordinary elections on October 26 and gathered for its first session on Thursday. The European Ukraine coalition holds 302 seats which allow it to pass any laws, including changes to the country's Constitution.
You can share this story on social media: