Activist pushes for govt anti-junk food media blitz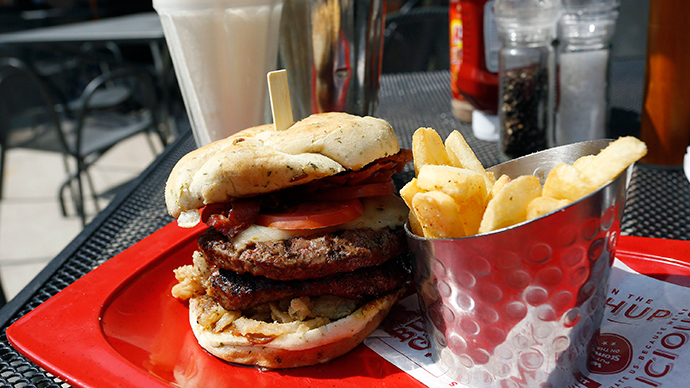 The head of Russia's temperance society wants government ministers to begin a campaign against fast food and sugary soft drinks.
Sultan Khamzayev of the Sober Russia group wants ads condemning fast food to be on federal TV channels, on the internet, and on billboards in major Russian cities. He said in an interview with Izvestia daily that at the moment the bulk of Russian state-sponsored healthy lifestyle promotion is concentrated in anti-alcohol and anti-tobacco campaigns, and very little attention is paid to hazards of fast food. He said western nations pay much more attention to obesity and the illnesses caused by excessive and unhealthy eating habits.
"Dull and thus ineffective adverts are treason," the activist told the newspaper. "Unfortunately, our federal TV channels do practically nothing to protect citizens' health," he added before saying that the negative ads should be creative and include modern graphics.
Consumer rights agency Rospotrebnadzor said it is conducting research into various food and producing menu recommendations for schools, but has no budget for social advertising promoting healthy eating habits.
Deputy Head of the State Duma Healthcare Committee, MP Oleg Kulikov (Communist Party) supported the idea of a state-sponsored campaign against fast food but also urged that the ads must be eye-catching and creative.
Earlier this month MP Alena Arshinova (United Russia) suggested amending the Federal Law on Advertising to ban junk food ads during children's shows aired on national TV or radio.
The new amendment should fit with the Health Care Development Program to 2020 fun by the Russian Ministry of Health, which among other things, is focusing on increasing public awareness about healthy food consumption. Obesity, high blood sugar and cholesterol are all due to be handled.
You can share this story on social media: