Ukrainian neo-Nazism threatens to spread across Europe – Russian diplomat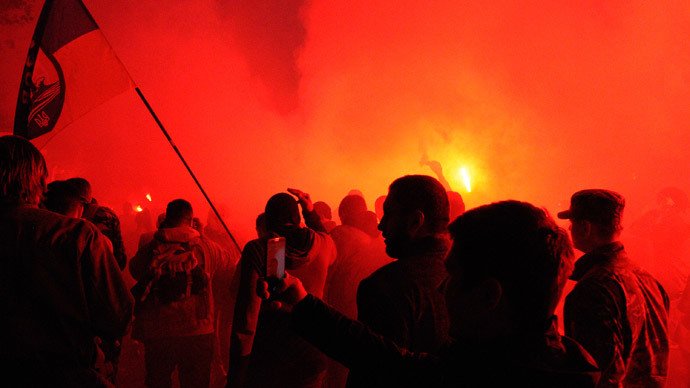 A lack of an adequate response to the upsurge of neo-Nazi sentiments in Ukraine might eventually lead to the spread of this dangerous ideology to neighboring countries and across the world, a top Russian diplomat has said.
"There is no doubt that if there is no adequate reaction to the raging neo-Nazism in Ukraine, and so far there is no such reaction, this infection would spread over the Ukrainian borders and spread to other countries in Europe and beyond," Foreign Ministry plenipotentiary for Human Rights, Konstantin Dolgov, was quoted as saying by the RIA Novosti news agency.
Dolgov was commenting on the recent decision by Ukraine, the United States and Canada to vote against a UN resolution on countering neo-Nazism, supported by the majority of the UN members.The resolution had been prepared and drafted by the Russian delegation at the UN.
Earlier, Dolgov wrote in his Twitter feed that Ukraine's vote against the resolution could be considered a confirmation of the Kiev's favorable official position towards neo-Nazi movements in the country.
The Russian Foreign Ministry commented that it was "upset and alarmed" by the Ukrainian position, especially given the fact that the people of the country had suffered the atrocities of Nazi Germany and played a major part in the common victory over the evil regime.
Last week Russia's Supreme Court endorsed a lawsuit filed by the Prosecutor General's Office that would recognize the Ukrainian groups Right Sector and UNA-UNSO, known for their neo-Nazi ideology, as extremist, and banning their activities and propaganda within Russia. Several similar organizations, such as the Ukrainian Insurgent Army UPA, Ukrainian People's Self-Defense and Stepan Bandera Trident were also tagged as extremist and banned in Russia.
In a separate development, a group of Russian majority party lawmakers asked investigators to prepare an official letter to the International Criminal Court describing crimes by members of Ukrainian nationalist groups - including the infamous Right Sector - and asking they be recognized as extremist.
You can share this story on social media: