Defense ministry holds first conscription in 20 years in Chechnya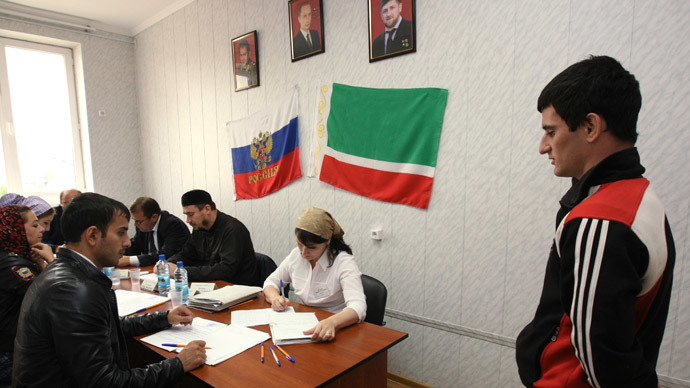 A first group of conscripts from Chechnya has recently started service in Russia's Southern Federal District, making it the first time in decades that the troubled region has started sending its young men to the federal military forces.
"The first group of conscripts from Chechnya left for the military forces on November 17 for the first time in 20 years," Defense Ministry's representative Roman Martynov told the RIA Novosti news agency on Monday.
In the early 1990s, the Russian Defense Ministry stopped calling up people from Chechnya for military service. No official orders had been issued and officers from regional conscription offices only quoted some oral instructions from the central General Staff. The main reason behind the situation was the military command's attempt to bring down the number of ethnic conflicts in the forces. They tried to resume conscription of young Chechens in 2000 but in 2005 stopped again.
The call-ups resumed this year after Defense Minister Sergey Shoigu asked the head of the Chechen Republic, Ramzan Kadyrov, to oversee the situation personally. The plan was to send 500 young Chechens for military service in autumn 2014, which has been fulfilled. Another 400 conscripts were called up in the neighboring republic of Ingushetia, which had also fallen out of the federal conscription plan for the same period of time and for the same reasons as Chechnya.
Young Chechens were enthusiastic about the plan. Many people in the rural mountainous areas see military service as a unique opportunity to get skills and connections required in the modern world, or simply see the world outside their villages. In September, in a radio interview, the head of the Chechen Youth Union, Azamat Mintsayev, thanked the authorities and all people of the Russian Federation for the decision.
According to the Chechen regional news agency Grozny-Inform, prior to leaving for their units, the young men listened to instructions from their clan elders and influential Muslim clerics.
The autumn conscription campaign in Russia lasts from October 1 to December 31 this year, and according to the Defense Ministry, the military plan to call up about 154,000 citizens.Preliminary reports suggest that this year the ministry has managed to bring down the number of draft dodgers by 20 percent.