'We didn't block EU creation, but they're blocking us' – Russian lawmaker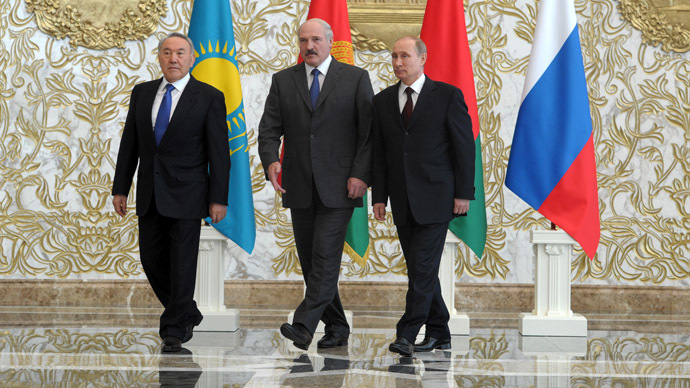 CIS countries should unite in order to resist the vast media and sanction pressure from the West, which is aimed at hampering the integration in Eurasia, a Russian senator says.
"Today the area of totalitarian manipulation of the media extends to the Eurasian integration. We are experiencing massive information and sanction pressure [from the West]," Vladimir Dzhabarov, deputy head of the International Affairs Committee in the Federal Council, is cited by Gazeta.ru.

According to Dzhabarov, the Western powers want to disturb the creation of the Eurasian Economic Union (EEU) between Russia, Belarus, Kazakhstan and Armenia.

"We didn't interfere with them when they put together the EU, but they keep interfering with us," he stressed.

The senator also called for the creation of a special information center to counter US and EU information plots within the Commonwealth of Independent States (CIS), which unites nine former republics of the Soviet Union.

The treaty to form the Eurasian Economic Union was signed earlier this year, with the new bloc to go into effect on January 1, 2015.

The EEU will create a single economic market of 171 million people and is expected to gross domestic product of $3 trillion.

In recent months, the US and EU have implemented several waves of sanctions against Russia, which targeted not only individual politicians and businessmen, but also the country's financial, energy and defense sectors.

The West accuses Russia of masterminding the current turmoil in Ukraine, widely using mass media to ignite anti-Russian moods despite being unable to provide any significant proof.