Obama loses the respect of Russians – poll
The proportion of Russians who don't like the policies of the US President's has surged from 12% in 2009 to 76% this year according to new research.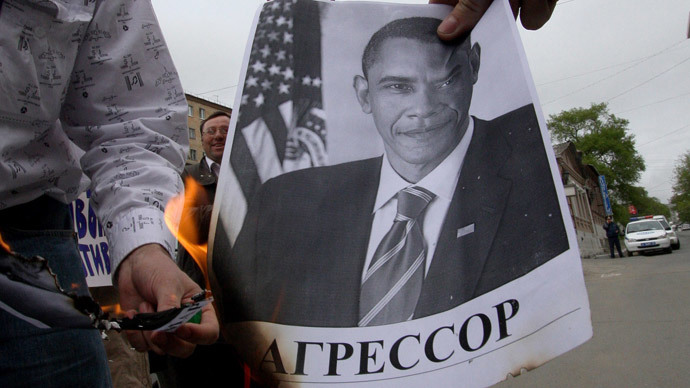 The opinion poll conducted by the independent Levada Center also shows that the percentage of Russians with a positive attitude towards Barack Obama fell from 21 percent to just 2 percent during the same time period.
Five years ago most Russians – 51 percent – said they were neutral towards the American leader and this year only 16 percent said the same. Sixty-seven percent of this year's responders said that relations between the two countries had become worse than under George W. Bush.
In 2009, 29 percent of those interviewed said they expected relations between Russia and the United States to improve during Obama's presidency. This year the number of optimists fell to a mere 9 percent.
In the same poll researchers asked the Russian public about their attitude to the heads of state of Germany, France and the UK. All three European leaders claimed approximately the same level of support – 8 percent of responders had a positive attitude towards Angela Merkel, 5 percent towards Francois Hollande and 4 percent to David Cameron. When it comes to a negative image among the Russian public Merkel was first with 50 percent, followed by Cameron with 35 percent, and Hollande with 30 percent.
In comments to the Izvestia daily Deputy Director of the Levada Center, Aleksey Grazhdankin, said that the sharp fall in Obama's popularity in Russia must be caused by the fact that Russians blame Western leaders, and most of the entire US President, for the ongoing crisis in Ukraine and for the economic sanctions against their country. "These actions are considered at best as unfriendly but most people think of them as of direct hostility," the researcher said.
Another poll conducted by the VTSIOM agency in late September showed that the overwhelming majority of Russians considered the United States to be the main enemy of their country. This negative share grew from 25 percent in 2008 to 73 percent currently. Other countries Russians perceive as hostile are Germany and the European Union in general at 10 percent, Great Britain at 9 percent, Poland 6 percent, Canada 3 percent, and France 3 percent.
You can share this story on social media: