Nightmare before Christmas: Russian lawmaker seeks Monster High ban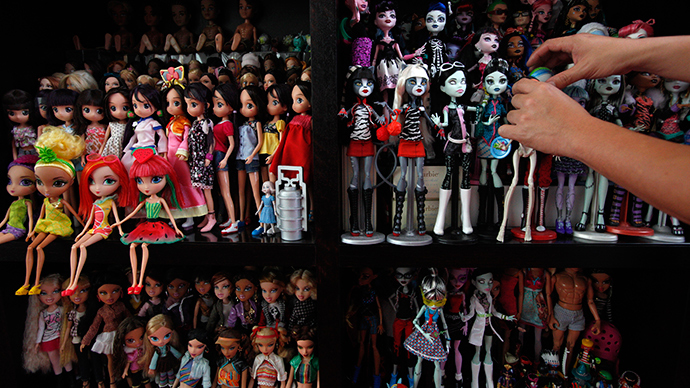 A Russian nationalist party lawmaker has asked the government to ban "all foreign produced toys that could affect the mental health of children," and specifically targeted the Monster High dolls by US maker Mattel.
Konstantin Subbotin (LDPR) who sits in the Lower House Committee for Women, Family and Children told Izvestia daily he had received numerous complaints from parents about Monster High dolls. The main worry was that the dolls were causing "suicidal moods" among the children. Kids buy them, or receive them as presents from other children or swap the toys – all without parents' consent, he said.
"I think we need an official expertise from competent bodies, explain the situation and issue a warning that would save our children from such toys," the politician told the newspaper.
He also added that horror-themed toys like the Monster High dolls could be used by those who want to raise the children's interest in the supernatural.
"Where there is demand, supply appears. If such toys can be found in stores it means that people are buying them. It is abominable, but I have personally met parents who show interest in the occult and attempted to pass this hobby to their children," he said.
Subbotin has suggested instituting a special government agency to control toy production and imports that would prevent damage to children's mental health. In July the Education Ministry announced that it was creating a special commission to prepare psychological and pedagogical tests for all children's products.
The National Parental Association NGO also supported Subbotin's move against the scary toys. One of the group's leaders, Yelena Tretyakova, told reporters that opinion polls had confirmed that the majority of Russian parents are against horror-themed toys but also against Western cultural expansion. They want more toys and schools supplies based on Russian culture, but now have to choose only between Spider-Man and Mickey Mouse, the activist noted.
Subbotin's initiative is not the first move against scary Western products. In 2005 a Moscow woman sued the French dairy company Danone over its "Skeletons" line that targeted pre-teens and pictured cute skeletons on the packaging and in TV and press ads. The woman claimed that the skeletons frightened her daughter so much she cried and demanded "Skeletons" sales and advertising should be banned. The outcome of the court hearings was not disclosed by the parties but shortly afterwards Danone stopped selling its Skeletons products in Russia.
You can share this story on social media: