MPs suggest lowering Russian voting age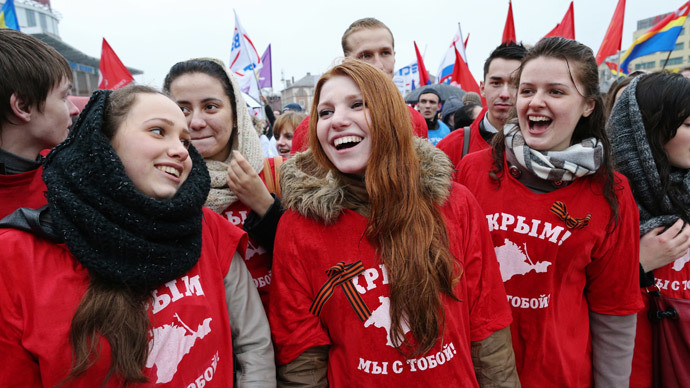 A lawmaker from the populist nationalist LDPR caucus has prepared a bill to allow Russians as young as 16 to take part in elections and referendums, claiming the measure would legalize young people's participation in politics.
Andrey Didenko, who is assuming the post of first deputy head of LDPR caucus in the State Duma, said in an interview with Izvestia daily that his bill would allow Russian citizens to participate in elections at all levels from the age of 16. The minimum age of candidates would remain unchanged, 35 years for the President and 21 years for State Duma deputies.
Didenko explained that modern young people are often much better informed about politics and the latest news than an average member of the public.
"It is known that the younger generation is the main target of manipulators who operate with the "orange" technologies; they are the main backers for those who organize Maidan and Bolotnaya," the MP said. "Young people get involved in protests mainly because they have no election rights and cannot participate in political processes."
"Orange" or "color" revolution is a widely used term for vivid and intense street protest, usually over alleged violations at elections that lead to displacement of parliament and government in a country, like the situation in Ukraine in 2004 and in 2014.
The lawmaker says that dropping the voting age to 16 would significantly increase voter turnout. He explained that as elections in Russia are held on a single voting day in mid-September, adults and pensioners can be away from their homes for vacation and rest; young people however begin their studies on September 1 and will be definitely available to vote. Didenko added that adults who shun the elections would start taking part in polls once they see their future is being decided by the young.
"We will have a perfect balance – the younger generation will get their voting rights and the older generation would become more disciplined," the lawmaker told reporters.
Didenko also quoted some international experience in the issue saying that Iranian citizens can vote from 15 years of age, Cypriots, Brazilians, and Cubans can vote at 16 and Indonesia sets the minimum voting age at 17 years.
This was not the first time the LDPR has suggested dropping the voting age and there is a good reason for this. Statistics show that over 55 percent of students support LDPR in elections of all levels and leaders of the party have grounds to suggest that senior schoolchildren would demonstrate the same behavioral pattern.
However, the head of the Lower House Committee for Constitutional Law, Vladimir Pligin (United Russia), criticized Didenko's proposal, saying that it was normal and correct that the voting age matched the age of full civil and criminal responsibility which is 18 years in Russia.
Georgiy Fyodorov of the Russian Public Chamber also rejected the motion suggesting that young people would not be exercising their new right and this would only lower the turnout at elections. The activist also said that in his view younger people were easier to cheat or bribe as they did not fully understand the value of their votes.