Nationalist lawmakers ask PM to put economic pressure on Ukraine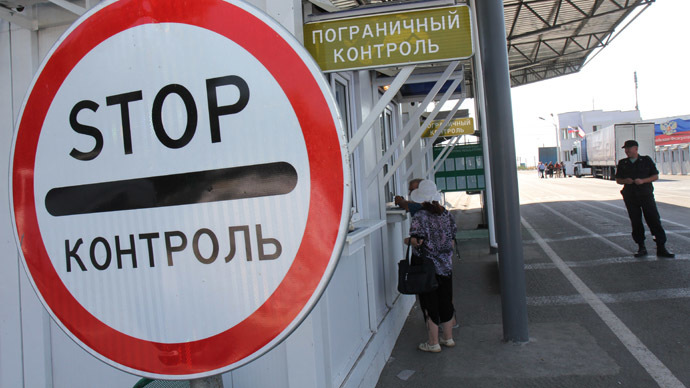 A Liberal Democratic party lawmaker is urging Russia's government to ban all supplies of foodstuffs, machinery and metal products from Ukraine in a bid to force Kiev into observing the Minsk ceasefire agreements.
In his letter to Prime Minister Dmitry Medevedev, MP Roman Khudyakov wrote that a tough economic policy would help to end the armed standoff in Ukraine quickly.
"Russia must react to Kiev's unscrupulous behavior. But due to the fact that we cannot react by military force, we must act through economic means. This is urgent now, after the official condemnation of the Ukrainian authorities by the State Duma," Khudyakov said in an interview with popular daily Izvestia.
"Our goal is simple – to force them to peace. We should stop the outrageous things like repressions against dissidents, terror against their own people and military aggression against the Donetsk and Lugansk republics," the lawmaker added.
He said that if the Ukrainian military continues to shell the territories of the two breakaway republics, Russia should stop all supplies of natural gas.
The MP also wants to compile a list of Ukrainian business people who would face an entry ban and asset freeze in Russia. He did not mention any particular names in the interview with Izvestia. In September, Russian law enforcers arrested the assets of Ukrainian oligarch Igor Kolomoyskiy, after he was charged in absentia with sponsoring terrorism and war crimes.
Khudyakov also stressed in the letter that the new harsh policy against the Ukrainian authorities must not touch upon ordinary citizens. In particular, the new measures should not target aircraft and railway transport and also money transfers that Ukrainian workers send home from Russia.
Earlier Khudyakov addressed the Russian Prosecutor General with a suggestion to launch a probe into contracts between Russian state and municipal enterprises and Ukrainian companies, such as the deal between the St Petersburg Metro and a Ukrainian car-building plant.
The suggestion has already received support from the deputy chair of the Lower House Committee for Defense, MP Sergey Zhigarev (LDPR), but he noted in comments that all steps must be executed with the utmost caution.
Moscow earlier introduced trade sanctions against the US, EU and some other countries that had applied economic pressure on Russia over the situation in Ukraine, and also blacklisted a number of EU officials who had maintained an especially strong anti-Russian stance. The Russian Foreign Ministry has said that the names on the blacklist will not be disclosed.