Support of Russia's national interests key to poll victories - Putin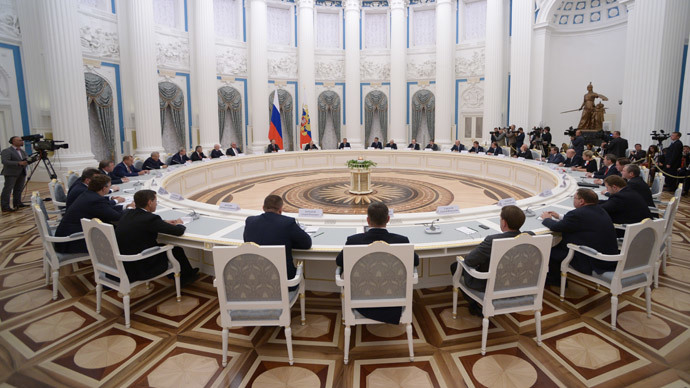 President Putin has praised the solidarity of Russian citizens and their support of politicians who are ready to defend the national interests in view of various threats.
"The community has demonstrated its consolidation before various threats and I would like to emphasize that the people's support went to the political forces that can stand for our national interests, that promote the development and strengthening of our state," he said at a meeting with freshly-elected governors who won the recent regional polls.
"I would like to draw your special attention to the fact that it is not the victory itself that is important, nor the percentage of votes you received. The most important thing is the citizens' trust in the elections system and the voting results. We aspire for the open, competitive elections that are held fully in line with the letter and the spirit of the law," Putin added.
The president also advised the regional leaders to avoid confrontation with the defeated candidates but form broad coalitions for joint work.
According to the Central Elections Commission, the centrist conservative United Russia party won 28 of the 30 gubernatorial seats in the September 14 polls. A Communist candidate won the race in the Oryol Region and an independent with a liberal pro-business agenda was re-elected as governor of the Kirov Region. United Russia also got the majority of seats in 14 reelected regional legislatures, including the Moscow City Duma.
The governors noted in press comments after the meeting that their victories were largely due to the present political situation, with growing pressure from abroad as well as the extremely high political rating of President Putin.
"It is difficult to describe the emotions that we see when we meet with voters, the level of their support for you. It was your trust that became the main decision making factor during the polls. Now we must live up to it and this means hard work," Volgograd Region Governor Andrey Bocharov told Putin during the meeting.
"People in the Oryol Region are smiling when they hear about sanctions – we have a record harvest this year," said Governor Vadim Potomsky.
At the end of the meeting Putin wished all elected regional leaders good luck with their work.