Federal body rules out drug legalization in Russia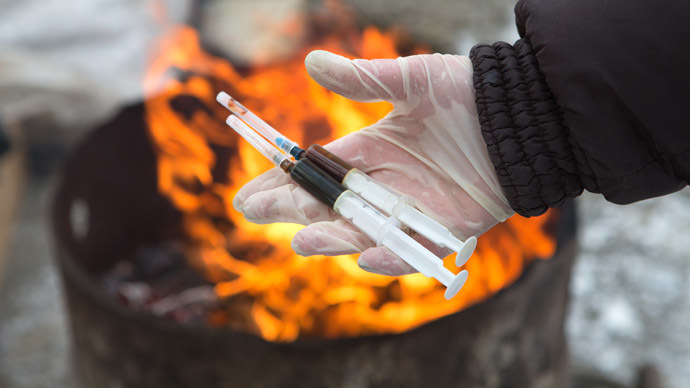 A senior spokesman for Russia's Federal Drug Control Service has said legalizing drugs would inflict non-repairable damage to the nation and wouldn't happen in current conditions.
Vladimir Sinelshikov made his comment to the Interfax news agency on Wednesday, soon after the Global Commission on Drug Policy – an international panel of leading politicians - had urged governments all over the world to decriminalize a variety of drugs and facilitate a legal drug trade.
The group includes a former UN secretary general and seven former European and Latin American presidents urged all countries to legalize "as many of the drugs that are currently illegal as possible, with the understanding that some drugs may remain too dangerous to decriminalize." It also said that national authorities should stop prosecuting drug users and stimulate treatment for addicts while at the same time fighting against criminal cartels that profit from the drug trade.
The Russian agency's reaction hardly comes as a surprise, as through its whole existence it has opposed any move linked with legalization, including replacement therapy.
In February this year the service's head, Viktor Ivanov, told reporters that the use of marijuana caused depression, dissatisfaction with life, and schizophrenia, and also said that marijuana users have a 50 or 60 times higher risk of switching to heroin.
He added that if recreational use of cannabis is legalized it would create very high security threats as people would start operating complicated and dangerous machinery while under the influence. "Someone who works at a nuclear power plant can wreak real havoc after smoking marijuana," Ivanov said.
In December last year Ivanov said that Uruguay's moves towards marijuana legalization was a mistake.
Russian drug laws do not distinguish between soft and hard drugs, and drug production and trafficking is punished with lengthy prison terms. Drug use is punished with fines of up to 5000 rubles (about $135) or up to 15 days of administrative arrest. Compulsory treatment for addicts is possible but requires a court order.
In mid-2013 a government commission estimated the number of illegal drug users in the country at 8.5 million. The number of addicts registered with the Health Ministry is currently about 600,000.