Leftists suggest tax moves to ensure dominance of domestic food producers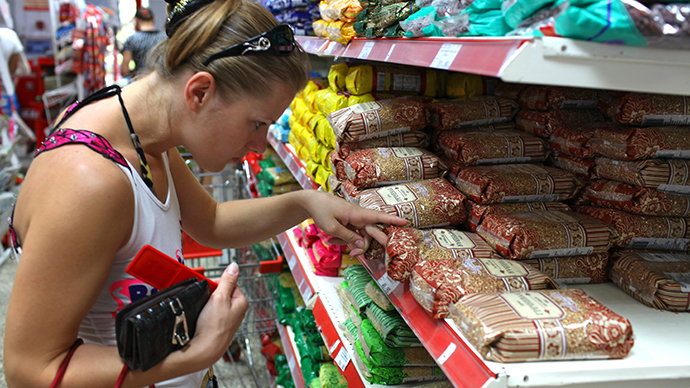 The Fair Russia parliamentary caucus wants to offer a VAT break to food retailers if over half of the products on their shelves are made in Russia.
Fair Russia's bill contains amendments to the tax code and to the Federal Law on state regulation of trade and suggests food retailers should pay 10 percent VAT (compared to the regular 13 percent) if at least 50 percent of the goods on offer are Russian produce.
The main sponsor of the bill, deputy head of the Fair Russia caucus Oleg Nilov told reporters that lawmakers considered adding more details to the draft to prevent any possible discomfort to ordinary customers. However, the lawmaker said that the main objective driving him was concern for domestic producers.
"The bill seeks to force retailers to take into consideration the interests of domestic producers. If this happens we will replace imports faster and more resolute, and we will create a planning system for all necessary products on the tightest schedule," the lawmaker told the Izvestia daily.
Last week a mixed group of MPs submitted to the State Duma a bill allowing farmers to sell their products at city markets with easier regulations and taxation.
The head of the Russian Association of Food Producers and Resellers Dmitry Vostrikov said Russian food producers were interested primarily in a presence in major supermarket chains, and the bill could help with this.
"If producers understand that their goods will have guaranteed demand they will be able to plan expansion in the preferred directions," Vostrikov said. The industry leader added, however, that simple long-term contracts between producers and retailers could help to solve the problem without altering national laws.
Earlier this month the Russian Agriculture Ministry suggested allowing regional authorities to make special agreements with food producers in order to stabilize food prices and prevent "speculation processes." However, the Federal Anti-Monopoly service opposed the plan, saying that similar measures have failed to bring positive results during previous crises, and the government rejected it.
The European Union, the United States and several of its allies have imposed economic sanctions on senior Russian officials and some larger companies over Russia's alleged role in the current crisis in the east and southeast of Ukraine.
In early August Russian Prime Minister Dmitry Medvedev signed a ban on imports of meat, fish, cheese, milk, vegetables and fruit from Australia, Canada, the EU, the US and Norway. Medvedev also said Russia did not fear the sanctions and that attempts at exerting pressure on the country would have no effect.
You can share this story on social media: