Nationalists seek import ban on ex-Soviet nations associating with EU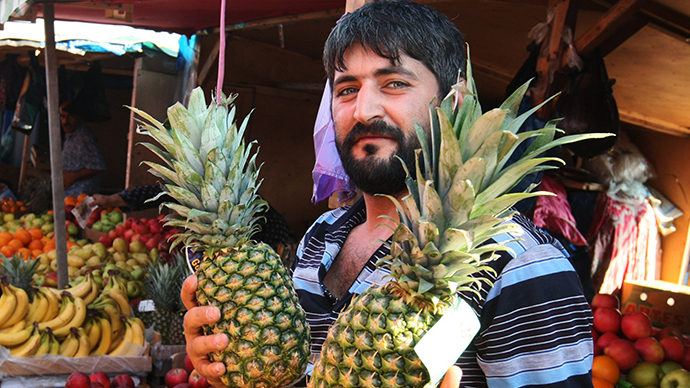 A nationalist party MP is suggesting the Russian government introduce more restrictions on food imports, covering nations that have an association agreement with the EU, including Ukraine, Moldova and Georgia.
Roman Khudyakov of the Liberal Democratic Party caucus of the State Duma has said that, since the association agreement with the European Union prepares the conditions for a free trade zone with the bloc, countries that have signed the document would soon be flooded with European goods, including foodstuffs banned in Russia.
"We must completely ban imports from Moldova, Georgia and Ukraine. We have to protect our markets from cheap, low-quality European goods that are now massively entering these countries. They have made their choice and will have to solve the demand problems for their products by themselves as well," Khudyakov said in an interview with popular Russian daily Izvestia.
He added that Russian state control agencies had repeatedly registered and rejected goods of unacceptable quality coming from the three countries.
Ukraine Moldova and Georgia signed association agreements with the EU in June this year at the union's summit in Brussels. Russia has repeatedly warned that the move would lead to restrictions on trade with the former Soviet Republics, as markets there would soon be flooded with cheap European imports and local producers would attempt to on-sell their low quality goods to Russian consumers.
Last year's warnings from Russia made then-Ukrainian President Viktor Yanukovich suspend the signing of the EU association agreement, which caused a surge in street protests in Kiev and eventually led to Yanukovich's demise and the installation of the current EU-friendly regime in Ukraine.
Russia has already banned the imports of Ukrainian sweets produced by the Roshen company, owned by current President Petro Poroshenko, as well as all Ukrainian alcohol. Representatives of the Russian consumer rights agency Rospotrebnadzor have earlier said that other foodstuffs and beverages from Ukraine could also be blacklisted due to quality problems.
However, MP Viktor Zvagelskiy of parliamentary majority caucus United Russia opposed the new trade restrictions. The politician, who is a deputy chairman of the State Duma Committee for Economic Policy said the move would only lead to an artificial destruction of competition. Proper work of customs and state watchdogs will be enough to protect the Russian consumers, he added.
The European Union, United States and several of their allies have imposed economic sanctions on senior Russian officials and some larger companies over Russia's alleged role in the current crisis in the east and southeast of Ukraine. Last week Russia took some reciprocal steps, with Prime Minister Dmitry Medvedev signing a one-year ban on imports of meat, fish, cheese, milk, vegetables and fruit from Australia, Canada, the EU, the US and Norway.
You can share this story on social media: