Activists seek blacklist on foreign drinks at state-sponsored banquets
Published time: 20 Aug, 2014 09:57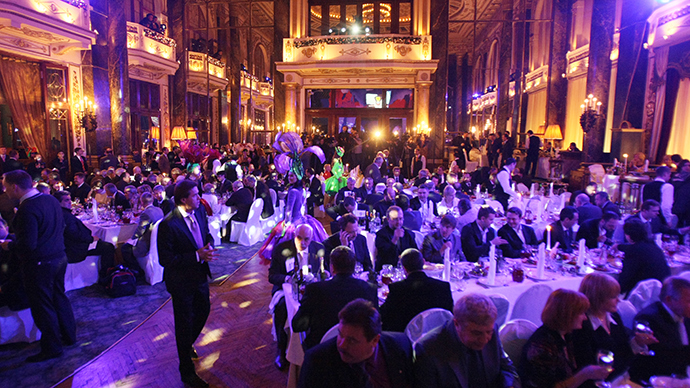 Representatives of Russia's Public Chamber suggest amending the existing law on government tenders with a ban on purchasing foreign-made drinks, including liquor and wine, for official banquets sponsored with state money.
Mikhail Lermontov of the Public Chamber's commission for development of the economy's real sector has said in an interview with Izvestia daily that the motion will be submitted to the State Duma in the nearest future.
"Presently the buyers are not restricted by any obligations, including moral ones and people are still drinking French mineral water at state-sponsored events. What we need instead is that authorities make decisions in the interests of the nation, not the companies that sell the expensive drinks," the activist noted.
MP Vadim Solovyov (Communist Party) of the State Duma committee for Constitutional Law approved of the planned motion and added that state-sponsored events should be thoroughly regulated and restricted to a minimum of occasions.
"State sponsored banquets are inadmissible – the civil servants' salaries allow them to celebrate the New Year holiday at their own expense. We can only allow official events with participation of foreign delegations or celebrations of some awards, as well as events that require the presence of the president," the lawmaker told reporters.
He added that Russian officials could do very well with only domestic drinks served at banquets – be it Russian vodka or Crimean wine.
The move is not the first attempt to use the current "war of sanctions" in domestic politics. A short time earlier Solovyov suggested that Russian government agencies and official bodies should stop purchasing cars made in countries that have introduced sanctions against Russia.
Earlier this year the European Union, United States and several of their allies have imposed economic sanctions on senior Russian officials and some larger companies over Russia's alleged role in the current crisis in the east and southeast of Ukraine.
In early August, Russia retaliated with a one-year ban on imports of meat, fish, cheese, milk, vegetables and fruit from Australia, Canada, the EU, the US and Norway. Earlier this week, the Russian president's press secretary Dmitry Peskov stated that further sanctions were possible if foreign nations continue their pressure.
A public opinion poll conducted in early August showed that 92 percent of Russian citizens felt no effect from trade restrictions. Most Russians also said that they saw the whole campaign as a means to weaken Russia and its position in global politics.