Russians see sanctions as tool to weaken nation, but feel no effect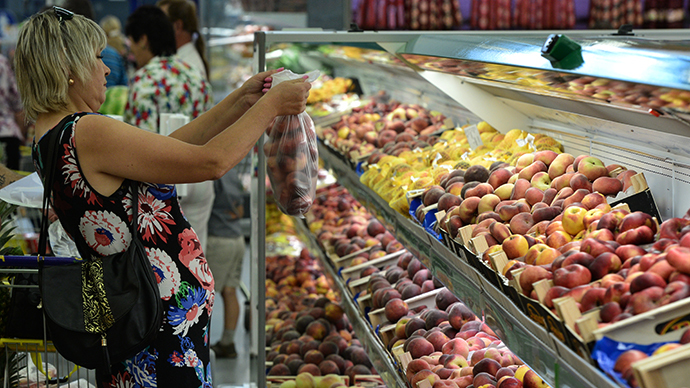 Almost all Russian citizens claim that they feel no effect from the sanctions against their country and most maintain that the campaign seeks to weaken Russia and its position in global politics.
According to the results of the latest poll released by the VTIOM agency on Friday, 92 percent of Russians said that the Western sanctions had not touched their interests in any way, 4 percent replied that they had noticed an increase in retail prices and only 4 percent declined to answer or reported actual problems, such as frozen bank accounts or the loss of a job in a foreign-based company.
Further, 62 percent of respondents said the sanctions would not have any effect on Russia. Fifteen percent said that after the start of the sanctions campaign the life in the country had only become better and the same number claimed life in Russia had deteriorated.
The poll was conducted among about 1,600 people in 42 different Russian regions on August 9 and 10.
The research also shows that of all Russians who knew about the sanctions, 45 percent could not say what the particular steps taken by Western nations and their allies against Russia were. Nineteen percent were aware of visa bans on certain Russian officials, 15 percent said they knew about restrictions in the banking sector and 10 percent knew about the sanctions in the export-import sphere.
Some 13 percent of polled Russians said they never heard anything about any sanctions lists.
When asked about nations that have recently imposed various restrictions against Russia, its officials and companies, 67 percent named the United States. Twenty-eight percent of Russians maintained that all European nations were in a confrontation with their country and 23 percent named Germany in particular. Only about 10 percent knew about sanctions imposed by Britain, Australia, France or Canada.
In terms of the objectives of the sanctions, the largest proportion - 32 percent - hold that the goal of the current sanctions campaign is to weaken Russia and diminish its influence in the world. The next largest camp, 14 percent, answered that foreign countries were simply following orders of US President Barack Obama, while 13 percent said that foreign leaders wanted to demonstrate their own importance.
The European Union, the United States and several of its allies have imposed economic sanctions on senior Russian officials and some larger companies over Russia's alleged role in the current crisis in the east and southeast of Ukraine. Last week Russia took some reciprocal steps as Prime Minister Dmitry Medvedev signed a ban on imports of meat, fish, cheese, milk, vegetables and fruit from Australia, Canada, the EU, the US and Norway.
Earlier this week Russian Prime Minister Dmitry Medvedev said that Russia fears no sanctions and no attempts at exerting pressure on it will have any effect.
You can share this story on social media: