Russian unions call on all countries to end sanctions war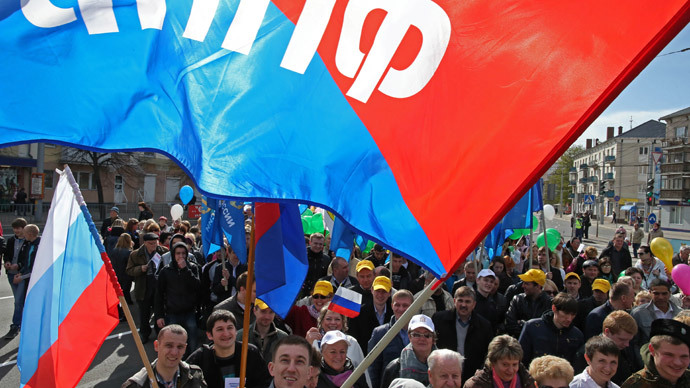 Russia's Federation of Independent Trade Unions has called on all countries to stop using economic sanctions as a means to resolve political rows, as it only worsens the general economic situation and leads to further suffering of ordinary people.
The statement published on the Federation's web-site on Tuesday says that more and more branches of the economy are getting involved in the "sanctions war" between the US, EU, Russia and other countries.
"This causes serious new problems in all nations engaged in the confrontation – production drops and thousands of jobs are lost, the socio-economic conditions of the working people deteriorate, and so does the political climate in Europe as a whole," the Unions' leaders write.
"We call upon all countries to stop using economic sanctions as a means of settling political disagreements," the statement reads.
Russian union leaders said in their letter about the anniversary of the start of the First World War, that Europe had gone through too much suffering to let it become a site of a new world war. They added that they expected the politicians to make weighted and responsible decisions aimed at defusing the situation purely through diplomatic means.
The message also called upon trade unions of all countries to start their fight for a world without any wars and without economic sanctions.
The Federation of Independent Trade Unions of Russia unites the country's largest trade unions and represents about 22 million workers. Its experts are working with the parliament on various laws concerning labor and social protection and coordinate protest events to apply pressure on employers.
The European Union, the United States and several of its allies have imposed economic sanctions on senior Russian officials and some larger companies over Russia's alleged role in the current crisis in the East and South East of Ukraine. Last week Russia took some reciprocal steps as Prime Minister Dmitry Medvedev signed a ban on imports of meat, fish, cheese, milk, vegetables and fruit from Australia, Canada, the EU, the US and Norway.
European and US food producers have already voiced their concern about the possible consequences of the ban, saying their losses can amount to hundreds of millions of euro. However, EU officials, such as the Union's ambassador to Moscow Vygaudas Usackas have said that the sanctions issue was "of secondary importance" in international relations.
You can share this story on social media: