Putin: no plans for 'tightening screws' or pressure on civil society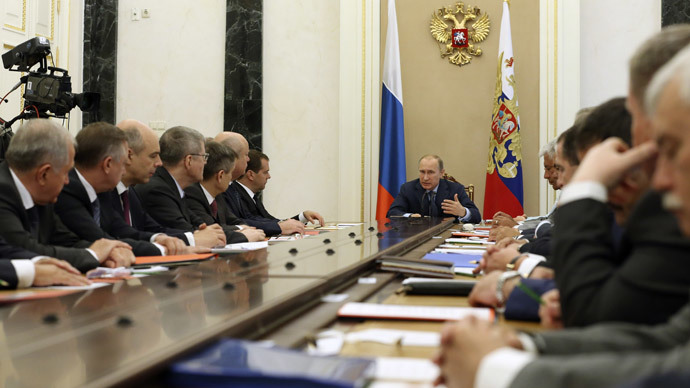 Russian authorities will cooperate with civil society and always observe the constitutional rights and freedoms of citizens, President Putin has said at an extraordinary session of Russia's supreme security body.
"We will support ourselves on the civil society, and we will never allow a single thought that the development of our work in all spheres was only allowed in order to tighten some screws. We are definitely not taking this route. We are going to find our very basic support in the civil society and nothing else," Vladimir Putin told the members of the Security Council on Tuesday.
The Security Council is the top advisory body for key issues of national security and sovereignty. Putin called an extraordinary session on Tuesday due to the current crisis in Ukraine and attempts by certain Western nations to blame Russia for the military conflict in Ukraine and the recent downing of a Malaysian passenger jet over territory controlled by Ukrainian federalist fighters who oppose the Kiev regime.
The language of sanctions and ultimatums is being used more often and the very definition of national sovereignty is being diluted, the Russian President noted. He said that often external political forces are using the so called 'color revolutions' in order to destabilize the states and regimes that pursue independent policies. The correct name for such 'color revolutions' is anti-government coups and they are being provoked and financed from abroad, Putin added.
"Of course they emphasize a country's internal problems – but there are always enough problems, especially in unstable nations and states with complicated regimes. Of course there are problems, but why use them for complete destabilizing and eventual collapse of these countries? Recently we see this very often in various parts of the world," Putin told Russian security officials.
The Russian leader added that the current events in Ukraine were a typical example of such a scenario. Foreign instigators of the coup had placed their bets on nationalist, neo-Nazi and fundamentalist forces, but despite the hasty elections the power has been grabbed by people who financed or conducted the coup while the people who disagree with such development are now being suppressed by military force, Putin said.
"There has been not a single attempt to hold negotiations," the Russian leader added.
Putin also said that at the moment Russia faced no direct military threat to its sovereignty and territorial integrity, and that he expected other countries to respect Russia's national interests and abstain from interfering with its internal affairs.
However, the Russian President promised an "adequate response" to NATO's constant expansion towards Russian borders.
You can share this story on social media: