Leftists suggest criminal prosecution for schoolchildren insulting teachers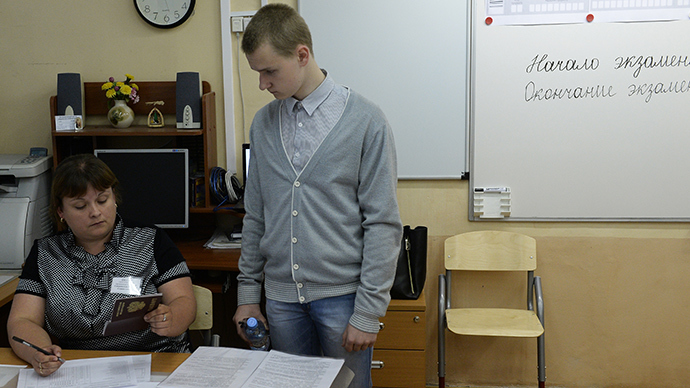 A Fair Russia lawmaker is suggesting the introduction of strict norms of behavior for schoolchildren and their parents, with criminal proceedings possible for violators, hoping that such a step will make teaching more attractive.
By amending the law on education and the Criminal Code, MP Viktor Shudegov wants legislation to ban schoolchildren and parents alike from all "insults, mockery, remands over incompetence, lecturing, and negatively portraying teachers and parents." He also suggests equating physical assault on a teacher at work to violence against a representative of the authorities.
Insulting a representative of the authorities is a criminal offence in Russia, punishable with up to one year of correctional labor. Physical attacks on civil servants and state officials can carry up to five years in prison, or even 10 years behind bars, if the attack is recognized as endangering the life or health of the victim.
Shudegov told the mass circulation daily Izvestia that he and his colleagues were trying to counter the change of priorities among the young and the increasing aggressiveness of teenagers. "I think that the state must protect teachers in the same way it protects law enforcers because teachers' service to society is equally important and beneficial for all," the lawmaker said.
The MP also noted that underage children can be punished with remands or expulsion, and adults will bear full responsibility under his bill.
The current laws against insults and attacks on representatives of the authorities can be applied to violators of 16 years or older. Official adulthood in Russia starts from the age of 18.
Conflicts among teachers and pupils are often reported by the Russian press, but they usually only make it to the courts if parents get involved. One of the most resonant cases took place in the Russian Far East in 2010, where a group of boys regularly hazed their 73-year old PT teacher, filmed the attacks and uploaded the videos on the internet.
The hooligans enjoyed impunity for some time as the teacher suffered from dementia and simply forgot what had happened during the lessons. However, the internet boasting helped to find and ultimately punish the culprits.
You can share this story on social media: